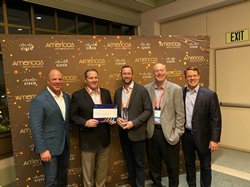 "It's an honor to be recognized by Cisco for these two awards," said Mike Greaney, CEO, Force 3.
CROFTON, Md. (PRWEB) November 14, 2019
Force 3, a Sirius Computer Solutions Company, is the recipient of the Cisco® Partner Summit Americas Geographical Region award for Public Sector Partner of the Year and Federal Intelligence Partner of the Year. The awards were announced during Cisco's Global Partner Summit in Las Vegas, Nevada.
Cisco's Americas Geographical Region Public Sector Partner of the Year award recognizes Force 3 for their significant investments in aligning with Cisco's go-to-market strategy around Security, Software, Services, DevOps, and Lifecycle adoption. Force 3 was also recognized for implementing Cisco's HCS-D collaboration solution for the Department of Defense and for its deep practice development around application performance monitoring. Cisco chose Force 3 as the Americas Geographical Region Federal Intelligence Partner of the Year for their significant growth in the intelligence vertical.
"It's an honor to be recognized by Cisco for these two awards," said Mike Greaney, CEO, Force 3. "They are a testament to our team's dedication and continuing commitment to provide the services and solutions that meet the demands of our public sector customers as we help them achieve their missions. We look forward to continuing to strengthen our partnership with Cisco in the years to come."
"Cisco is proud to work together with leading partners to drive the digital transformation, creating powerful solutions and fresh approaches to meet the needs of our customers," said John Moses, Vice President, Americas Partner Organization at Cisco. "It is an honor to recognize Force 3 with two Cisco Partner Summit GeoRegion awards, further underscoring its outstanding accomplishments in the Public Sector."
Awarded to channel partners who rise to business challenges, the Cisco Partner Summit Global awards are designed to recognize superior business practices and reward best-in-class methodologies. Areas of consideration include innovative processes, architecture-led successes, strategic business outcome-focused programs, seizing new opportunities, and sales approaches. At last year's summit, Force 3 was awarded the Federal Partner of the Year.
Cisco Partner Summit Geographical Regional awards reflect the top-performing partners within specific technology markets across the geographical region. All award recipients are selected by a group of Cisco Global Partner Organization and regional executives.
About Force 3
Force 3 is the Network Security Company. We provide transformational technology solutions and services that help our customers achieve mission success. Together with our parent company, Sirius Computer Solutions, we offer a comprehensive range of solutions backed by an expert team of engineers and strategic partnerships. We securely design, deploy, support, and maintain the needs of our nation's most critical infrastructure.
To learn more about Force 3, visit http://www.force3.com. For more information about Sirius, visit http://www.siriuscom.com.