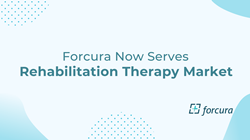 "Forcura has made our goals of improved timeliness and efficient staffing processes achievable. We now have a more cohesive, digital referral management process that enables us to get in front of the patient faster."
JACKSONVILLE, Fla. (PRWEB) November 17, 2020
Forcura, a healthcare technology company that enables safer patient care transitions along the care continuum, announces its formal launch into the rehabilitation therapy sector and will offer its full suite of workflow, care coordination and analytics solutions to contracted and private practice therapy providers. Providers will benefit from administrative cost savings, reduced held claims and the ability to make data-driven decisions. The move is the first of several new market introductions the technology company plans in the next year, and aligns with its vision to become the standard communications platform for the post-acute healthcare industry.
Since its launch in 2012, Forcura has primarily served the home health and hospice markets, and currently partners with 460 clients who provide care for approximately 550,000 patients every month. Client communications are powered by Forcura's HIPAA-secure, cloud-based platform that streamlines patient care transitions, enabling clients to onboard new patients rapidly, improve cash flows by efficiently routing medical records for signature to referring providers, and optimize operations with real-time performance analytics. With similar business processes and needs, the rehabilitative therapy market will benefit equally from Forcura.
Quality Rehab Management-The Continuum (QRM-C), a community-based rehabilitation management company that enables post-acute providers to extend their outpatient therapy services into the home setting, has recently selected Forcura as it's referral management technology partner. QRM-C has licensed and implemented the full suite of Forcura products. Meredith Mull, executive vice president of population health management at QRM-C, expressed that "Forcura has made our goals of improved timeliness and efficient staffing processes achievable. We now have a more cohesive, digital referral management process that enables us to get in front of the patient faster." Mull concluded, "Forcura is an essential part of what helps us keep clients satisfied."
Craig Mandeville, founder and CEO of Forcura, shared his enthusiasm on empowering better patient care across additional post-acute sectors. "The opportunity to decrease the risks associated with patient care transitions, remove barriers that hinder care delivery, and simplify collaboration between and among providers - these goals motivate our team every single day." Mandeville continues, "QRM-C is an outstanding model of how the healthcare industry is evolving to support improved outcomes and an even better patient care experience. We are so proud to partner with them."
Forcura is exploring additional post-acute lines of business and partnerships to expand its footprint, and has plans to launch more products and services in 2021.
About QRM-C
QRM-C, a post-acute private practice management company, headquartered in Dallas, TX, assists SNFs, home health agencies, and assisted living communities with providing community-based outpatient services. Their model consists of a full suite of private practice management and billing services that affords these providers the ability to follow their patients beyond their doors. Through a mixture of downstream partnership contracts and outpatient rehabilitation and remote patient monitoring in the home, the QRM-C model allows providers of senior care to keep their patient throughout the continuum of managed care in the home. QRM-C's parent company, also headquartered in TX, also provides a full suite of management and value-added services to SNFs and home health agencies by converting their programs in-house and providing all operational, clinical, and financial management of their programs. QRM and QRM-C are in over 300 client locations in 18 states.
About Forcura
Forcura, a leading healthcare technology company headquartered in Jacksonville, Florida, facilitates continuity of care via technology, analytics and a deep commitment to enabling better patient care. The Forcura suite of tools is powered by Forcura Connect, a proprietary framework for standardizing interoperability and integration among post-acute health care organizations, physicians, electronic health records (EHRs) and other supporting technology vendors. Through our technology and analytics solutions, we are a step closer every day to elevating the opportunities of post-acute care. The company has received awards for Fastest Growing Company for the fifth consecutive year, Best UI/UX Design in SaaS, and Best Places to Work by Inc. Magazine. For more information visit http://www.forcura.com, call 800-378-0596 or follow Forcura on LinkedIn.