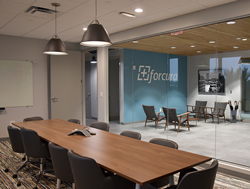 "Surrounding our team with elements that keep them inspired and engaged enables them to produce the outstanding results that are a hallmark of this organization." Craig Mandeville, CEO, and Founder, Forcura.
JACKSONVILLE, Fla. (PRWEB) January 25, 2021
Forcura, a healthcare technology company that enables safer patient care transitions and coordination, announces it has moved to a new, expansive office located in the Deerwood area at 10151 Deerwood Park Boulevard, and is occupying the fourth floor's full 30,000 square feet. While employees will largely remain remote due to the public health crisis, the company remains focused on the need to offer a dynamic work space that fosters Forcura's unparalleled culture and rapidly growing staff when it is safe for everyone to return to the office.
Forcura grew its workforce by 35% in 2020, and expects to continue and accelerate this growth trajectory for the next two years. With the backing of Silicon Valley-based funding partner Accel-KKR, Forcura is ramping up its workforce, strategically evolving its inventory of products and services and expanding into new sectors of the healthcare industry, including rehabilitative therapy, behavioral health, skilled nursing and infusion care. The company quickly outgrew its previous space which it occupied for less than two years.
Connie Turner Designs completed the full floor buildout of the new office and incorporated design elements that reflect a modern, clean but inviting aesthetic. Real wood accents building pillars throughout the office, open ceilings complement the airy feel, and walls are hung with photography of local scenes or murals that depict Forcura's company values and mission statement. Forcura posted an album on their company Facebook page with highlights from their recent, socially-distanced tours for employees.
"Forcura includes culture as just one of three corporate objectives, and there is a direct connection between our office environment, our award-winning culture and our Growth and Innovation KPIs," says Craig Mandeville, Forcura's founder and CEO. "Surrounding our team with elements that keep them inspired and engaged enables them to produce the outstanding results that are a hallmark of this organization." Mandeville concludes, "Our goal is to be the healthcare tech company that everyone wants to be a part of."
Forcura was re-certified as a Great Place to Work for 2021. Other recent culture-based awards include a third consecutive-year win for the Inc. Best Place to Work Award, earning a finalist designation for the 2020 Inspiring Workplaces Awards, and winning Jacksonville Business Journal's Best Place to Work for the fifth consecutive year.
About Forcura
Forcura, a leading healthcare technology company headquartered in Jacksonville, Florida, facilitates continuity of care via technology, analytics and a deep commitment to enabling better patient care. The Forcura suite of tools is powered by Forcura Connect, a proprietary framework for standardizing interoperability and integration among post-acute health care organizations, physicians, electronic health records (EHRs) and other supporting technology vendors. Through our technology and analytics solutions, we are a step closer every day to elevating the opportunities of post-acute care. The company has received awards for Fastest Growing Company for the fifth consecutive year, Best UI/UX Design in SaaS, and Best Places to Work by Inc. Magazine. For more information visit http://www.forcura.com, call 800-378-0596 or follow Forcura on LinkedIn.