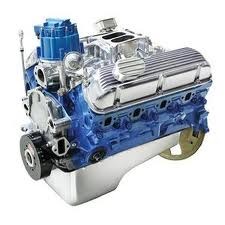 The partners supplying our Ford motors represent some of the largest distribution agencies in the domestic automotive market.
Chicago, Illinois (PRWEB) September 19, 2013
Ford Motor Company has helped to pioneer its version of the V8 engine over the past 60 years. The Mustang is one example of vehicles that have benefited from multiple engine types and the Got Engines company online is now selling used Ford engines. These motors include the Ford 302 engines that are now announced for a lowered price for V8 buyers at http://www.gotengines.com/blog/ford-engines/ford-50-engine-sale.
The complete inventory of motors that are currently offered in the Ford build online include the different variants of the 302 engines.
The 4.9 and 5.0 editions that have been produced for various vehicles are now included in the discounted prices for consumers. These previously owned motors are considered low mileage and inspected before these are shipped to buyers.
"The partners supplying our Ford motors represent some of the largest distribution agencies in the domestic automotive market," said a salesman for the GotEngines.com company.
The changes that were recently announced by this company for its supply chain in 2013 have now helped to build the inventory for sale to larger numbers. The acquisition staff working for the Got Engines company has helped to introduce different engine types that are now part of the reduced sale prices marketed to online buyers.
"We're now one of the resources that some buyers are using to find engines for vintage Ford vehicles as well as other automakers online," the salesman confirmed.
The supply chain enhancements put in the place this year have created a mixture of late model and vintage motor types that are currently offered for sale online. These enhancements to the current inventory as well as the new Ford units offered for sale have expanded the limited warranty program now in place.
As a secondary benefit to all used engine buyers online, a better warranty policy is packaged with each engine sale that includes a period of coverage for up to 24 months after purchase. These warranties are in addition to the announcement for reduced V8 engine pricing online.
About GotEngines.com
The GotEngines.com company retails used engines from its website online and currently supplies shipping incentives to each buyer from within the United States. This company employs a dedicated staff of automotive researchers, sellers and acquisition experts who are responsible for handling the customer service side of the company. The GotEngines.com company supplies Chevrolet, Dodge, Jeep, Ford, Toyota, Honda and other brands inside its expanding warehouse. A policy for warranty protection was introduced in 2012 and has been updated in the 2013 year to include better coverage for OEM parts used in the company inventory of motors.