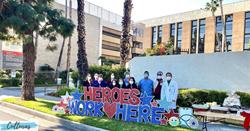 "Essential workers have been hit hard. They have put themselves at risk to help others [and] we recognize the work they do," says Sonia Smith-Kang, Co-founder of Culturas. "We wanted to send our gratitude and thank them for all they do."
LOS ANGELES (PRWEB) December 10, 2020
Culturas Media Platform and Ford Motor Company have joined forces to recognize, celebrate and honor essential workers during this global pandemic. From first responders and medical professionals to educators and grocers, a myriad of individuals have come forward to keep our communities safe, fed and healthy. The Gratitude Is Essential project is a collaborative effort to recognize and meet needs of these heroes that walk among us.
The collaboration has already found the resources and time to celebrate medical professionals at Dignity Health Hospital, Monroe Health Clinic, LAUSD educators, early education special needs teachers, firefighters and SouthLA cafe.
"Essential workers have been hit hard. They have put themselves at risk to help others [and] we recognize the work they do," says Sonia Smith-Kang, Co-founder of Culturas. "We wanted to send our gratitude and thank them for all they do."
Culturas is known for creating and discovering content that celebrates culture, diversity and inclusion. Throughout the year the platform collaborates with brands on events and initiatives that benefit the greater community. A global pandemic that disproportionately affects communities of color gave Culturas and Ford Motors Company Latino more than enough reason to forge a relationship and joint initiative to help not only those in need, but also those lending a much-needed helping hand.
The first Gratitude is Essential event honored medical professionals at Northridge Hospital Medical Center. Keep up to date on upcoming stories and previous honorees with Culturas on Instagram (@culturas.us).
A special thank you from the partners of the Gratitude Is Essential project is extended to their individual sponsorsand donors:
Bare Snacks, Card My Yard, CurlyChic Hair Care, CurlyKids Mixed Texture HairCare, Gogo Squeez, Gloria Govan Gorditos Granada Hills, Lola's Baja Tacos, Mixed Up Clothing, Simple Grace Health & Beauty, SouthLA Cafe, Vandaele Homes, and Vibrancy Agency
Lani Ross, Amy Mowry, Beth Kaminkow, Karen Bordeleau, Kate Klein, Michael & Sandy Creith, Scott & Jessica Mc Clure, Denise Noyer-Erez, Gioconda Mitas, Arlene Rosen, Courtney Mayo, Jess Moy, Kevin & Lauren McClure, Pam Green, and Beth & Mike McClure