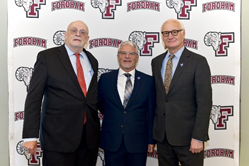 We are honored and encouraged that the leading minds in this arena traveled from around the world to participate in this truly landmark event. We look forward to continuing this conversation in the future.
NEW YORK and BRONX, N.Y. (PRWEB) October 07, 2019
Fordham University's School of Professional and Continuing Studies (PCS) recently hosted hundreds of industry executives, athletes, journalists, scholars, students and activists from around the world as part of a first-of-its-kind event, The Global Symposium on Sports and Society: Anti-Semitism and Sports. This landmark conference took place recently at the University's Rose Hill Campus in the Bronx.
Presented in conjunction with Chelsea Football Club, New England Revolution and their Final Whistle on Hate campaign, the event brought together the leading minds on extremism in general, then focusing on anti-Semitism and its interface with sports, with sessions deliberating a playbook for combating hate on and off the field.
Anti-Semitism and Sports featured an all-star line-up of speakers including Yael Averbuch, executive director, National Women's Soccer League Players Association and former USA national soccer team player; Bruce Buck, chairman, Chelsea Football Club; Anthony Clavane, sports journalist and award-winning author; Charlie Davies, club ambassador and former player, New England Revolution; Ross Greenburg, former president, HBO Sports; Anna Isaacson, senior VP of social responsibility, NFL; Kenneth Jacobson, deputy national director, Anti-Defamation League; Ron Mix, retired Hall of Fame offensive tackle; Michael Neuman, prize winner, CBS' Million Dollar Mile, athlete and psychotherapist; Howie Rumberg, global sports editor, Associated Press; Irv Smalls, executive director, FC Harlem LIONS; Leigh Steinberg, chairman and CEO, Steinberg Sports & Entertainment and Grant Wahl, lead soccer reporter, Sports Illustrated.
Panelists and keynote speakers alike spoke about their real-life experiences of anti-Semitism and how they are facing the issues head on, as both individuals and organizations.
In his opening remarks, Buck shared how the Chelsea Foundation provides learning opportunities and promotes equality and diversity. Under personal direction from the club's owner, Mr. Roman Abramovich, the Chelsea Foundation have launched a comprehensive campaign against anti-Semitism. The campaign seeks to educate fans, football and the wider community on the dangers of anti-Semitism. As part of this effort, Chelsea has joined the March of the Living for two consecutive years and played two charity games to raise money and awareness for the cause.
"We have learned that the power of sport is that when the team wants to say something, their fans will listen," Buck said. "We don't think our actions will solve anti-Semitism or discrimination tomorrow, but we are hopeful that they will help make a difference over time."
A theme that came up several times throughout the day was the importance of keeping the conversation going in the public. Several speakers cited the event itself as a shining example of a way to do so.
"If we learned anything from our influential and passionate speakers today, it is that anti-Semitism is an epidemic that we are seeing throughout the globe, both on and off the sports field," said Dr. Anthony Davidson, dean, Fordham PCS. "We are honored and encouraged that the leading minds in this arena traveled from around the world to participate in this truly landmark event. We look forward to continuing this conversation in the future."
Event partners and supporters included Chelsea Football Club; New England Revolution; USC-Shoah Foundation; Anti-Defamation League; Associated Press; Co-Communications, Inc.; Eden Wok; Red Oak Transportation; Jewish Heritage Sports Association, Inc.; Maccabi USA; Sports Business Institute; The Conversation; and Hillels of Westchester.
The Global Symposium on Sports and Society served as the official launch of an event series from Fordham PCS. Planned upcoming symposia will focus on the intersection of sports with other cross-sections of society.
ABOUT FORDHAM SCHOOL OF PROFESSIONAL AND CONTINUING STUDIES: The School of Professional and Continuing Studies (PCS) offers students a quality education in a small, personalized atmosphere that promotes individual growth and exploration. With three convenient campus locations – Lincoln Center in Manhattan, Rose Hill in the Bronx and West Harrison in Westchester, PCS is poised to meet students' academic needs. Classes are offered evenings, weekends and online in areas including Business, Organizational Leadership, Economics, Legal and Policy Studies, and Social Work. Certificates in Digital and Social Media Marketing and Human Resource Management are also available, as well as Post-Baccalaureate / Pre-Medical / Pre-Health. The Fordham Real Estate Institute, which is part of PCS, offers a Master's Degree and multiple Certificate Programs in Real Estate at the Westchester and Lincoln Center campuses.
ABOUT FORDHAM UNIVERSITY: Founded in 1841, Fordham is the Jesuit University of New York, offering exceptional education distinguished by the Jesuit tradition across nine schools. Fordham awards baccalaureate, graduate, and professional degrees to approximately 15,000 students from Fordham College at Rose Hill, Fordham College at Lincoln Center, the Gabelli School of Business (undergraduate and graduate), the School of Professional and Continuing Studies, the Graduate Schools of Arts and Sciences, Education, Religion and Religious Education, and Social Service, and the School of Law. The University has residential campuses in the Bronx and Manhattan, a campus in West Harrison, N.Y., the Louis Calder Center Biological Field Station in Armonk, N.Y., and the London Centre in the United Kingdom.
ABOUT CHELSEA FOOTBALL CLUB: Chelsea Football Club is an English professional football club. Founded in 1905, it competes in the Premier League, the top division of English football. Chelsea are among England's most successful clubs, having won over 30 competitive honors, including 6 top-flight titles, 8 FA Cups, 5 League Cups, 2 UEFA Europa Leagues, 2 UEFA Cup Winners' Cups, 1 UEFA Champions League, and 1 UEFA Super Cup. Their home ground is Stamford Bridge in Fulham, London. In 2018, Chelsea Football Club in collaboration with the New England Revolution formed Final Whistle on Hate, a partnership aimed at promoting tolerance and fighting anti-Semitism.
ABOUT NEW ENGLAND REVOLUTION: The New England Revolution is an American professional soccer club based in the Greater Boston area that competes in Major League Soccer, in the Eastern Conference of the league. It is one of the ten charter clubs of MLS, having competed in the league since its inaugural season.