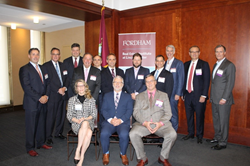 Gateway cities have a lot to offer and they have attributes that people desire – places that produce urban vibrancy: the 'live, work and play.'
NEW YORK (PRWEB) October 23, 2018
Fordham Real Estate Institute (REI), Columbia University, the Counselors of Real Estate and Professional Women in Construction co-hosted the well-attended forum Urbs or Burbs: Where are the Best Investment and Development Opportunities? The breakfast panel took place on Wednesday, October 3 at the University's Lincoln Center campus. At the event, leading real estate thinkers and practitioners compared the pluses and minuses of development across North America's regions, markets and sub-markets.
The first component of the Urbs or Burbs program involved a fireside chat with Hugh Kelly (director of graduate programs, Fordham REI, and president, Hugh F. Kelly Real Estate Economics) and special guest John Kessler (president and chief operating officer, Empire State Realty Trust). The two discussed the factors influencing major investors as they assess where to allocate funds, especially at this point in the industry cycle.
"In New York, we have transformed our portfolio to attract better tenants," said Kessler. "The growth has been strong and the tendency has changed over time as technology businesses come to the city. As new buildings transform to lure high-quality tenants, older buildings can compete by delivering great location, convenient access and quality accommodations for a low rate. When looking to the suburbs, location is a major asset. For example, our property in Stamford is very specifically located across from the train station into the city. For the suburbs, it's about location and convenience. For Manhattan, it's about expansion."
"The state of national real estate is in a transitional period," chimed Kelly. "Gateway cities have a lot to offer and they have attributes that people desire – places that produce urban vibrancy: the 'live, work and play.' Cities no longer have to have a New York City-scale population density."
The second half of the event touched on topics such as relative economic strengths and weaknesses, demographic trends, infrastructure, government policy, construction issues, building technology, capital flows, and other key variables that play into overall prospects for development. Patrice Derrington, director, Real Estate Development Program, GSAAP, Columbia University, moderated the discussion. Featured panelists included:

George Kok, managing director, Morgan Stanley
Bill O'Connor, CEO, O'Connor Capital Partners
Chris Mills, CEO, Plaza Construction
Of note, during the conversation, the experts honed in on growth markets and smaller urban locations like Austin, T.X., North Carolina and Florida. As the state of adaptive reuse brings a rise of new development formats, millennials are seeking all things urban – even outside of the true urban city. Mixed-use buildings/shopping centers have changed the makeup of the city "core." The trend of retail, food and entertainment in one convenient and accessible location provides incentive and attracts people. Even with multi-family housing, developers have found a trend in smaller rooms and larger common areas, as residents seek collaboration and are more open to sharing resources.
"New York City may be the real estate capital of the world, but it is important to look at the industry as a whole; the trends in suburban areas and smaller markets can have big impact across the board," said Anthony R. Davidson, Ph.D., MBA, dean of Fordham's School of Professional and Continuing Studies. "As we start looking ahead to 2019, the expert insights shared today gave attendees a strong look at what we can expect in our cities and suburban areas moving forward. We thank our esteemed speakers and co-presenters for a truly insightful morning."
Urbs or Burbs: Where are the Best Investment and Development Opportunities? was sponsored by First American Title™, Plaza Construction, the Mortgage Bankers Association of New York Inc. and Co-Communications Inc.
ABOUT FORDHAM REAL ESTATE INSTITUTE
Fordham Real Estate Institute (REI) currently offers a Master of Science in Real Estate (MSRE), a graduate certificate, and a comprehensive array of professional real estate certificates at its campuses in Manhattan and West Harrison, N.Y. Serving professionals and owners/investors of all stripes, the MSRE curriculum presents the essential elements of real estate finance, investment, development and management. The programs are developed and taught by leading industry practitioners and are centered on imparting real-world professional skill sets. Flexibility and convenience are program hallmarks as classes can be taken in-person, online, and at various paces. REI is a part of Fordham's School of Professional and Continuing Studies. For more information, visit http://www.fordham.edu/realestate.