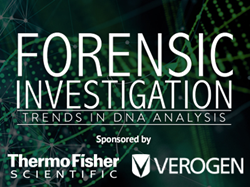 Genetic genealogy has an almost unlimited amount of promise, especially in the most taxing casework.
SOUTH SAN FRANCISCO, Calif. (PRWEB) January 05, 2021
Forensic Investigation: Trends in DNA Analysis is an interactive, content-forward hub from the editors of Forensic® designed to showcase the latest breakthroughs, trends, products, news and educational resources. By combining this relevant content into an informational portal, the hub provides an easy way for forensic professionals to keep up-to-date with the ever-changing forensic world.
The Trends in DNA Analysis content hub features three subsections any DNA analyst is intimately familiar with: Human Identification, Genetic Genealogy, and Next-generation Sequencing (or Massively Parallel Sequencing). Each section includes a variety of articles, guides, infographics, news, products and more—all of which can help a forensic professional on his/her journey to justice.
Human identification is difficult enough without mass disasters, degraded and limited DNA and complex mixtures, just to name a few challenging sample types. Luckily, next-generation sequencing, also known as massively parallel sequencing, has evolved to the point of consistently providing high-resolution, high-accuracy results.
Given its popularity and the impact it has made within the forensic community since 2018, it's easy to forget forensic genetic genealogy is still in its infancy. The technique has an almost unlimited amount of promise though, especially in some of the most taxing casework like sexual assault investigations and cold case homicides.
Join the community at https://www.forensicmag.com/Forensic-Investigation/DNA-Analysis/ as we explore new technologies, breakthroughs and ever-changing regulations both in the forensic laboratory and at the crime scene.
About Forensic®
Forensic® (http://www.forensicmag.com) is the leading source for daily breaking news in the forensic research community. From DNA to trace analysis, sample prep, toxicology and even crime scene technologies, Forensic® covers a breadth of information vital to forensic professionals. With both quick reads and in-depth articles, Forensic® features the voices of many professionals—all with hands-on experience. Forensic® has been serving the marketplace since 2005 with its commitment to news, products, trends and more that can help a forensic professional navigate the ever-changing landscape.
About CompareNetworks, Inc.
Headquartered in South San Francisco, California, CompareNetworks operates targeted, online, B2B marketplaces for professionals worldwide. Focused on providing detailed product information for niche markets, CompareNetworks integrates online marketplaces, email newsletters, award-winning video, whitepapers and editorial content to bring buyers and sellers together. With an extensive directory of more than two million products with complete specifications and thousands of product videos, CompareNetworks provides the most up-to-date B2B marketplaces on the Web.