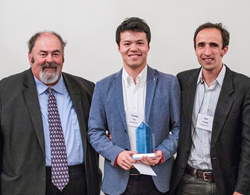 "Up and coming brilliant students will push the way forward for the rest of us, hence our recognition of those who have significant accomplishments even in these early stages. We expect great things..." -Steve Burgess, Foresight President
PALO ALTO, Calif. (PRWEB) September 30, 2019
The Foresight Institute, a leading think tank, research, and public interest organization focused on molecular manufacturing and other transformative technologies, announced the 2018 winner for the prestigious Distinguished Student Prize.
The Award recognizes the College graduate or undergraduate student whose work is considered most notable in advancing the development and understanding of nanotechnology; Foresight has awarded this Prize annually since 1997.
Recently of Harvard University and now at the California Institute of Technology, Yuxing Yao is this year's winner of the Foresight Institute Distinguished Student Award.
Yuxing has been a PhD student in the Aizenberg Biomineralization and Biomimetics Lab under Professor Joanna Aizenberg until this month and has just moved to Division of Chemistry and Chemical Engineering at Caltech where Professor Mikhail Shapiro will be his advisor.
Yao and his colleagues at the Aizenberg Lab have introduced magnetic-field–guided encoding of highly controlled molecular anisotropy into 3D liquid-crystalline elastomer microstructures capable of displaying unique multiresponsive, shape-changing behaviors.
This is of note because the range of allowed deformation modes currently described for the actuation of microstructures is limited.
Yao and his labmates have shown that by polymerizing molded prepolymer in patterned magnetic fields, they can encode any desired uniform mesogen (Liquid Crystal) orientation into desired LCE microstructures, the resulting platform which may be widely harnessed into applications such as:

switchable adhesion
Information encryption
Autonomous antennae
Energy harvesting
Soft robotics
Smart buildings.
Yuxing defended his PhD thesis in April of this year, is an author on 9 publications with a total of more than 500 citations.
About the Foresight Institute
The Foresight Institute is a leading think tank and public interest organization focused on transformative future technologies. Founded in 1986, its mission is to discover and promote the upsides, and help avoid the drawbacks, of nanotechnology, artificial intelligence, biotechnology, and similar life-changing developments.