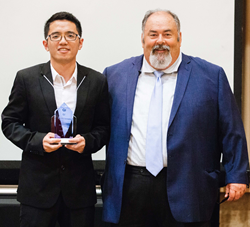 PALO ALTO, Calif. (PRWEB) September 18, 2018
Foresight Institute, a leading think tank, research, and public interest organization focused on molecular manufacturing and other transformative technologies, announced the 2018 winner for the prestigious Distinguished Student Prize.
The Award recognizes the College graduate or undergraduate student whose work is considered most notable in advancing the development and understanding of nanotechnology, and has done so since 1997.
Carnegie Mellon PhD Student, Qi Li is this year's winner of the Foresight Institute Distinguished Student Award.
Qi Li is a PhD student in Professor Rongchao Jin's Lab at the Department of Chemistry Carnegie Mellon University in Pittsburgh, PA.
Mr. Li has developed a means of nanoparticle "surgery" - that is, surgery on nanoparticles to precisely place an exact number of atoms onto specific locations on a nanoparticle and has been first author on more than ten papers in premier journals.
Qi for the first time developed a highly innovative site-specific tailoring method for exchanging the surface motif of the 23-atom (Au23) nanoparticle and obtained luminescence enhancement by an order of magnitude, and thus allowing batches of nanoparticles with specific properties
This breakthrough process stands to advance the field of nanochemistry.
About the Foresight Institute
The Foresight Institute is a leading think tank and public interest organization focused on transformative future technologies. Founded in 1986, its mission is to discover and promote the upsides, and help avoid the drawbacks, of nanotechnology, artificial intelligence, biotechnology, and similar life-changing developments.