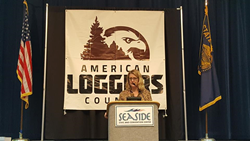 SEASIDE, Ore. (PRWEB) October 13, 2018
Newly-appointed U.S. Forest Service Chief Vicki Christiansen today addressed the American Loggers Council (ALC) during its 24th Annual Meeting. The meeting, held Oct. 11-13, brought loggers, ALC sponsors and others from across the country to Seaside, Ore. for logging demonstrations, special events and industry discussions.
ALC was the first organization that Christiansen addressed after being appointed Chief on Oct. 10. Speaking to attendees on Oct. 13, she discussed her vision for the U.S. Forest Service, her efforts to improve management on National Forest Service lands, and the recognition of loggers as the "boots on the ground" to help ensure better outcomes for public lands.
The annual meeting included a logging tour on Oct. 12 on nearby state forest land, educating attendees on logging systems and practices in Northwestern Oregon. A concurrent Ladies Tour included stops at the Tillamook Forest Center and Tillamook Creamery. Later that evening ALC held its annual President's Dinner and Auction. As part of the event, a Stihl chainsaw was auctioned to benefit the Log-A-Load for Kids program, which supports medical services for needy children.
The ALC President's Award was given to Ken Swanstrom of Skookum Logging in Montana and Crad Jaynes of the South Carolina Timber Producers Association for their support and leadership for the council and the logging industry over their careers. The National Logger Activist Award was awarded to Vance Wright, owner of Charles A. Wright Logging Inc. in Virginia for his advocacy on behalf of fellow loggers.
D.K. Knight presented Timber Harvesting Magazine's prestigious "Logging Business of the Year Award" to Log Creek Timber Co. of South Carolina.
The Board of Directors and Membership meetings were held on Oct. 13 and included committee reports from the legislative, transportation, biomass, communications, membership, Master Logger and nomination committees. ALC's leadership and members agreed to pursue new membership and sponsorship opportunities, and to expand in parts of the country where loggers currently lack a national voice. ALC will continue to be active in the policymaking in Washington DC, including advocating for key priorities including passage of the Future Logging Careers Act, Right to Haul Act, biomass utilization and federal forest management reforms.
As custom, the annual meeting was held in the home state of the current ALC President, Mark Turner of Turner Logging. During the closing President's dinner on Oct. 13, President Turner introduced Chris Potts of Potts Logging of Alabama as ALC's new president. Shannon Jarvis of Jarvis Timber in Missouri and Tim Christopherson of Dabco Logging in Idaho will serve as First and Second Vice Presidents, respectively. Andy Irish of Irish Family Logging in Maine will serve as Secretary-Treasurer.