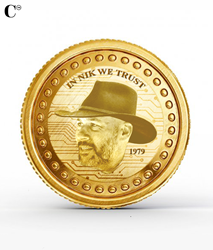 Anybody can go to the moon, I want to go to Mars
LOS ANGELES (PRWEB) April 09, 2021
Nik Richie, who changed the internet with his websites The Dirty and Celeb Magazine, has joined a new revolutionary new social media platform that is turning celebrities and influencers into coins.
BitClout, the CryptoSocial Network, takes everything we love about social media and instead of quantifying followers and likes it places an actual monetary value on the reputation of an individual.
"I received a random phone call, and the voice on the other end of the line asked me 'Do you want to become a coin,'" says CELEB CEO Nik Richie. "Now people can buy a piece of me. And I will know my real value in society."
With an architecture similar to Bitcoin, BitClout takes social network data and allows you to speculate on people and posts with real money—built from the ground up as its own custom blockchain. According to BitClout it "is a fully open-source project and there is no company behind it—it's just coins and code."
The BitClout blockchain has its own native cryptocurrency, called, you guessed it, BitClout. BitClout is decentralizing social media in much the same way as Bitcoin is decentralizing the financial system.
Everyone on the platform gets their coin that anybody can buy and sell.
BitClout recommends buying creator coins of those who you think will become more popular. Richie agrees.
"You are banking on the value of celebrity or entrepreneur—that their stock is going to rise—this distracts us from banking on followers. Since we have been on the phone, I went up a dollar," he says. "Now I have a value, I am worth something in the world."
How Much Are You Worth?
As of this publication, one BitClout is worth $156.28 USD and Richie is valued at $398.82. Musk is worth $90,834.10, Ariana Grande is worth $27,519.26 and Logan Paul is worth $22,619.95.
"I was shocked when I woke up this morning to see my value. It was an ego boost but also I am so appreciative that people outside of myself believe in me. I have big plans for the future and I hope I do right by the people who bought a piece of me," he says. I also had great help from the guys at http://www.cloutbros.com that helped me launch my coin.
When some of his fan base heard that Richie was now available for purchase they created signature art pieces to show their support—one especially dramatic work shows Richie on a rocketship emoji heading toward the moon.
Following in the footsteps of his idol Musk, Richie says, we've gotta think bigger. "Anybody can go to the moon, I want to go to Mars," he says.