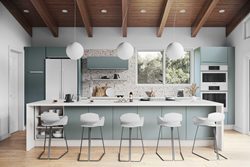 FORM Kitchens lets homeowners and remodelers work directly with experienced designers to create and order the kitchen of their dreams directly from their browser - at a fraction of the price offered by traditional retailers
SAN FRANCISCO (PRWEB) February 25, 2021
FORM Kitchens, an online kitchen design studio that offers made-to-order German cabinetry without the showroom markup, announced today their official launch and availability within the US market. Designs are brought to life with photorealistic renders, created using photographs that the client uploads. FORM allows design-forward homeowners to have the benefits of working with a kitchen studio, but for 30-40% less. New customers can sign up for a free 30-minute remote consultation with a FORM designer by visiting: https://formkitchens.com/.
FORM has seen strong demand as the pandemic has caused a surge in both online services and kitchen remodeling. The National Kitchen & Bath Association (NKBA) expects 2021 to be a strong year for the kitchen and bath industry – forecasting spending to grow 17 percent overall – with 22 percent going to new construction and 10 percent to remodeling.
FORM offers the same high-end products and 1-1 design support as other European cabinet showrooms. Unlike other players, FORM's design process centers around getting the client photo-realistic visuals as soon as possible and giving clients the most for their budget. Everything is managed through a dedicated web application that streamlines the process.
"FORM Kitchens is part of a new movement of design companies employing a production custom business model, combining technology and direct sale pricing to disrupt the traditional interior design market," said Danny Soos, co-founder, and CEO of FORM Kitchens. "Our clients work directly with experienced designers to create and order the kitchen of their dreams directly from their browser - at a fraction of the price offered by traditional retailers."
FORM has already attracted design talent from top brands in the industry including Bulthaup, Boffi, and Poliform. They have also been trusted by several notable clients, including founding art director of Kinfolk magazine Amanda Jane Jones (@amandajanejones), New York DJ Brendan Fallis (@brendanfallis), and boutique hôtelier Jayson Seidman (@thebasic).
"Being able to envision the space so vividly was immensely helpful. I can't get over how real they look - They even recreated our actual furniture...I might have teared up a little bit when we saw the first design," said Amanda Jane Jones. "I've also really loved having a dedicated FORM designer. Our designer asked us questions we hadn't thought about before and it really helped us formulate our dreams for the space."
FORM has partnered with the most popular manufacturer in Germany to make that high-end European aesthetic and functionality available to a much larger audience. Building on 75 years of experience, they offer advanced design and storage features, usually only available on high-end custom cabinetry. The process is also environmentally conscious, everything is PEFC-certified and meets the most stringent off-gassing standards in the world.
"It is partly about the product and partly about the process," explained Soos. "Our service is for people who find their kitchen inspiration online, but are struggling to realize their vision. We offer the modern styles they want and certainty of being able to see how the end result will look. By streamlining the process, we make it more accessible."
Key capabilities and benefits of FORM Kitchens include:

Made-to-order German cabinetry at a price comparable to big box stores
Save 30-40% vs comparable brands bought locally
1,000s of design, customization and storage options
Work 1-1 with highly experienced kitchen designer
Design from the convenience of your home and move through the process at your pace
Easy-to-use app manages the project for you and helps you stay organized
Three full-sized samples shipped to your door
Initial design costs $299 instead of the industry typical $2,000+
Incredibly lifelike visuals, created using imagery uploaded by the user
Transparent pricing on everything down to individual drawer inserts
All cabinetry is built to last and backed by 25 years manufacturing warranty
Good for you and the environment - FORM products hold the top certifications and awards for quality, safety, and environmental impact
Cabinets pre-assembled to make installation faster and easier
Work directly with your existing contractor, or we can help you find a vetted local contractor
Priority installation support, in case a question comes up on the job
About FORM Kitchens:
FORM is an online kitchen design service offering studio-quality kitchens at big-box prices. FORM currently has over 95 live projects in New York, San Francisco, Los Angeles, Seattle, and Chicago, and can ship to anywhere in the US. Founded in 2018, FORM offers made-to-order German cabinetry at 30-40% cost savings over other brands.
For more inFORMation please visit FORM Kitchens, How it works, Client testimonials.