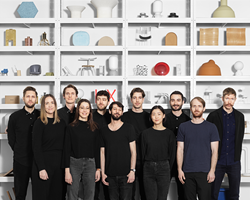 Form Us With Love looks toward a future where its objective to design real change becomes the status quo.
STOCKHOLM (PRWEB) March 11, 2020
Form Us With Love has been named to Fast Company's annual list of the World's Most Innovative Companies for 2020.
The list honors the businesses making the most profound impact on both industry and culture, showcasing a variety of ways to thrive in today's fast-changing world. This year's MIC list features 434 businesses from 39 countries. FUWL was awarded 4th place in the Design category.
Form Us With Love has made great strides in the past year and a half to design real change, particularly when it comes to innovating on sustainability;
FUWL venture BAUX joined forces with scientists from the Royal Institute of Technology (KTH) to develop a revolutionary new material based on over 25 years of research. The new 100% bio-based BAUX Acoustic Pulp panel is the first in the world to uncompromisingly combine the high-performance properties of sound absorption, safety, and durability with modern aesthetics and sustainability. Positioning the brand as a leader in its industry gives room for BAUX to continue to design real change. Developed today, made for tomorrow, BAUX acoustic products can be found in the offices of Wework and Google, as well as the stores of Stella McCartney. Today, the studio is investigating even better performing materials in terms of sustainability metrics.
Form Us With Love also aims to innovate in its approach to work culture.The studio is not focused on a single designer; it's built around fostering the ambitions of the team to design real change. The studio works 4 days a week on client work, and 1 day a week on turning internally proposed ideas into running ventures. 2020 saw the launch of FUWL's newest venture FORGO; a brand dedicated to doing less. FORGO currently boasts a natural foaming hand wash that is reduced to the essentials. Powder packed in paper sachets (that are actually recyclable, no plastic or bio plastic coating) refill a glass bottle with tap water from home to create a foaming hand wash. This has the added benefit of radically reducing the volume needed to ship a bottle of hand soap, using the space of one liquid bottle for 20 refills. They are currently looking to expand to all personal care made more sustainable with less.
"Form Us With Love looks toward a future where its objective to design real change becomes the status quo. Our contribution to design is to show how sustainable ideas are really commercial. Not conceptual. Not symbolic. Truly implementable. To design real change by making sustainability an everyday thing," concludes FUWL CEO, Jonas Petterson.