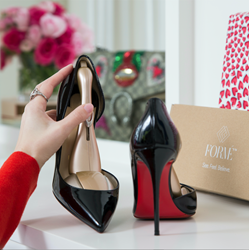 Formé is a smart and elegant idea for women who want the most out of their footwear investment, and who doesn't?
LOS ANGELES (PRWEB) January 23, 2020
The Grommet will welcome Formé to its carefully curated mix of innovative products from makers, inventors and small businesses this January.
"This shoe shaper will change how you wear heels," proclaimed the headline of a January 1 Footwear News feature story on the product. Conceived by a woman for other women, Formé is the first women's shoe stretcher and shaper in one. The lightweight device has a patented design that allows it to stretch uncomfortably tight shoes up to one-half size. It also keeps shoes in mint condition when not in use, not only extending wear, but enhancing their resale value. Formé Founder and Inventor Maureen Stockton developed the product after ruining her favorite too-tight power pumps by trying to use her husband's shoe stretcher, designed for more resilient men's footwear. Stockton realized that women needed a gentler but still effective solution of their own.
The Grommet is a product discovery platform and online marketplace with a community of 4 million supporters and early adopters. Many of the products offered become tomorrow's household names. Since 2008, The Grommet has launched more than 3,000 innovative products, including offerings from FitBit, Food Should Taste Good, IdeaPaint, OtterBox, Popsockets, SodaStream, and S'well.
While the Grommet discovery team considers more than 15,000 products a year, only 3% make the cut. "It is easier to get into Harvard (which accepted just 4.5% of applicants to its class of 2023) than to be on Grommet," notes Stockton. "Being here puts us in elite company and it's a thrilling testament that our product truly works and resonates with a much larger audience than we could have imagined."
"Formé is a smart and elegant idea for women who want the most out of their footwear investment, and who doesn't?" said Jules Pieri, Co-Founder and CEO of The Grommet and author of the recently published book How We Make Stuff Now. "Shoe lovers are a huge part of our community and this is a real game changer for them."
Formé shoe stretchers and shapers will retail on The Grommet for $48.95
For further information, please visit formecomfort.com and thegrommet.com.