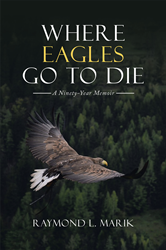 "I wish you long life, dear reader and the strength to survive stormy seas and happiness in your final port of call"
SEATTLE (PRWEB) January 17, 2023
Born during the Great Depression, Raymond L. Marik was sent to the Infectious Disease Ward in a Chicago hospital with a small chance of survival. Marik did survive, and his resilience set the tone for him overcoming obstacles throughout his life.
In "Where Eagles Go to Die: A Ninety-Year Memoir," Marik shares the story of his adventurous life. Marik is a former marine operating engineer, 82nd airborne paratrooper, special ops Army Ranger and an entrepreneur, who writes about the peaks and valleys in the many professions he has had the pleasure of working in. Some stories include his night jumps out of an airplane, and working as a deckhand on a ship, a marine operating engineer, and a special education teacher.
Marik believes his greatest achievement was teaching public school special needs students using materials and methods that he developed. Readers can learn about their remarkable achievements that Marik says are, "inspiring and astonishing".
Readers can also look forward to following Marik as he details his journeys to various places around the globe, like The Pribilof Islands and Cairo, Egypt.
All proceeds from the sale of this book are donated to the Special Operations Warrior Foundation, which provides post-secondary educational support to eligible children of fallen Special Operations Personnel and Medal of Honor Recipients, as well as immediate financial assistance to severely wounded, ill and injured Special Operations Personnel.
"I wish you long life, dear reader;" Marik said, "the strength to survive stormy seas and happiness in your final port of call."
"Where Eagles go to Die: A Ninety-Year Memoir"
By Raymond L. Marik
ISBN: 9781663234452 (softcover); 9781663234469 (electronic)
Available at iUniverse, Amazon and Barnes & Noble
About the author
Raymond L. Marik is a former marine operating engineer, 82nd airborne paratrooper, special ops Army Ranger, and an entrepreneur, who circumnavigated the globe are a few of many pursuits that insatiable curiosity led the author to explore. This is his second published book the first is "And Strode Blindly into Oblivion" (2020). To learn more, please visit https://www.iuniverse.com/en/bookstore/bookdetails/833143-where-eagles-go-to-die.