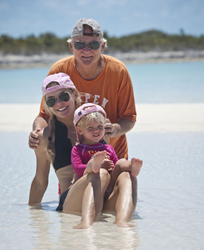 "Regardless of how much you've travelled, I think I have visited 88 countries in the world so far; you learn a lot of things by reading that you didn't know about."
NASSAU, Bahamas (PRWEB) November 25, 2021
Born to a British diplomat dad in Switzerland, Ronald Meade, the author of Travels with Pinky the Invisible Dragon, lived in various corners of the world, from Peru to Argentina to New York to Washington, to name a few. He went to school in England and went to university in Germany and Canada.
As one can imagine, Meade's travels offered him a conglomerate of experiences. However, it wasn't until he started reading to his daughter that he realised that there was still so much to learn about the different countries of the world, even those he had visited and lived in. An exciting way of learning, he thought, was to write a book about travelling in a way that both parents and children could enjoy as they read bedtime stories together. "Regardless of how much you've travelled, I think I have visited 88 countries in the world so far; you learn a lot of things by reading that you didn't know about. I have a section in the book called 'Did You Know?' Where I give interesting facts about different things," he said.
Becoming an author was a thought that came later in life for Meade. "I never thought I'd be an author until later in life when my daughter was born," he said. "I used to read to her at night, and as I was reading, I wondered if I could write a book that would be interesting and entertaining, not only for the child but also the parent because I was bored. I wanted to learn something at least while reading to my child, who would also be learning something. So I came up with this idea of using travel as a way to teach," he added.
Travels with Pinky the Invisible Dragon is about a little girl named Sloan who gets lost in the forest and meets monkeys that take her in. While in the forest, she sees trees being cut down, which scared the animals, so she tries to stop the woodcutters. The chief monkey then tells her that she doesn't know enough to prevent them from cutting down the trees, so she should meet the wizard, and the wizard would tell her what to do. Sloan then travels across rivers, and mountains and caves and eventually finds the wizard, who tells her to first learn about the world and about how other animals and people live around the world before she can get her answers. She accepts the task, and that becomes an educational adventure which she takes off on with a dragon named Pinky. When she returns, she asks the woodcutters to stop cutting down the trees as they are scaring the animals, but they ask her how they would make products made out of wood for people to use. Sloan then suggests an excellent environmentally friendly solution that would work for both the animals and the woodcutters, and it becomes big news in the town.
"The book is environmental in a sense that she is trying to stop the deforestation and the scaring of animals and wants to protect their habitat. In the same vein, the wizard sends her out to learn about different cultures, which is important because people are afraid of things they don't know. And I think once you're exposed, particularly through travel, you see people from different cultures; how they dress, how they eat, how they speak, and how they live, and you have a better understanding of the world. And it makes you more appreciative and less fearful," said Meade.
Accompanying the fictional yet educational story are 180 stunning illustrations by award-winning illustrator Carol Liddiment. "Liddiment is very talented. I found out about her through the internet, so I flew to England to meet her. She had done several books before and won some awards for the books that she had illustrated. I was very impressed with the quality and beauty of her work, so I chose her to do this book. It took four years to illustrate. I think her work brought the book to life," Meade added.
Some of the illustrations that appear in the book include the swimming pigs of Exuma, which have a special tie to Meade. Meade lives in the Bahamas. A move that was only supposed to be for a year and ended up being 40 years. "I've just enjoyed living here; I love the pace of life, the weather, the people, and it's just beautiful. So even after all the travels, I settled in the Bahamas," he explained.
Before becoming an author, Meade was working in the investment business, portfolio management and venture capital. He describes this transition as easy because he was an avid reader from a young age. "I'm a big reader. I think the most books I've read in a year were 108 in my youth. And I enjoyed reading to Sloan, my daughter, at night. So that is how I transitioned."
Meade's daughter, Sloan, inspired the characters and the book itself. The main character's name is Sloan, and Pinky the Dragon is one of Sloan's dragon toys in her room. "My daughter loves dragons; they are all over her room. She appears to be four years old in the book, but by the time the book was published, she was eight," he said when sharing how long it took to publish the book.
"I hope the book will appeal to both girls and boys. The illustrations make the book so attractive and readable, so I think whether you're a boy or girl, it will be appealing," he said. He also hopes that his book will take the kids off their gadgets. "I think reading is critical, but typically today, kids are spending so much time on the internet, and you need to get them off the internet and hopefully reading a book. I think that because this book is part adventure, part travel, it's beneficial for them as opposed to being on the internet and playing video games," he concluded.
Written By Deandrea Hamilton
Meade's Travels with Pinky the invisible Dragon can be found on. http://pinkytheinvisibledragon.com/