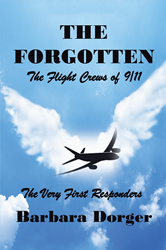 "People need to understand what factors allowed this event to occur so future related events can be prevented," said Dorger. "'The Forgotten' gives them an insider's view of what was happening in the skies on 9/11 and in the days and months following."
PASADENA, Calif. (PRWEB) November 01, 2021
In her 2004 book, "Turbulent Skies," Barbara Dorger wrote, "Maybe someday someone will write about the incredible actions of the flight crews on the morning of September 11, 2001." This wish began to manifest in the 10th year after 9/11 when she had an overwhelming sensation that she should undertake this quest herself.
With her second book, "The Forgotten: The Flight Crews of 9/11," Dorger invites readers to witness a true-to-life example of how human courage overcame severe adversity. This volume covers the events that occurred before, during and after September 11, 2001. It details the flight crew actions on the doomed flights and the fast responses on the ground by air traffic controllers, as well as Canada's contribution in handling all the incoming international flights.
Dorger voices her professional experience on that day and pens a beautiful and thought-provoking tribute to the flight crews. Her book will educate American youth on the events that took place before many of them were born and sheds light on the impact September 11th had on the traveling public.
"People need to understand what factors allowed this event to occur so future related events can be prevented," said Dorger. "'The Forgotten' gives them an insider's view of what was happening in the skies on 9/11 and in the days and months following."
The book further examines the political obstacles that occurred before and after the life-changing incident. Ultimately, Dorger explores the aftermath of the attack and how this event forever changed the airline profession and added significant restrictions on public transportation.
"The Forgotten: The Flight Crews of 9/11"
By Barbara Dorger
ISBN: 978-1-6641-8333-9 (softcover); 978-1-6641-8332-2 (hardcover); 978-1-6641-8331-5 (eBook)
Available at Xlibris, Amazon and Barnes & Noble
About the author
Barbara Dorger was born in Stockton, CA. She started her career as a flight attendant with United Airlines as the youngest in her class. She flew on various assignments from Washington DC to Los Angeles; Dorger has seen different parts of the world on numerous aircraft. She retired in June 2003 with 39 years of flying experience. Dorger earned an associate of arts degree from San Joaquin Delta College in business and finance. She published her debut book, "Turbulent Skies," which describes the highs and lows of her career as a flight attendant, which has been republished this year alongside her new book, "The Forgotten." As a keynote speaker, she has lectured about the September 11th attacks at two "Clipped Wings" events for retired flight attendants. She has published articles underneath the pen name, GG Baba, on Hubpages.com, drawing over 75,000 reads. Dorger resides in Pasadena, CA, with her husband and has two children and four grandchildren.
General Inquiries:
LAVIDGE – Phoenix
gconnor@lavidge.com | 480-998-2600