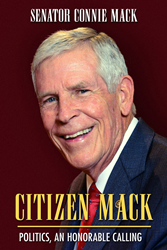 For those considering a life in politics with the goal of improving people's lives, I would hope that this book would be an encouragement to them. - Senator Connie Mack, author of "Citizen Mack"
DALLAS (PRWEB) September 08, 2020
Connie Mack, a former U.S. senator, a crusader against cancer and a dedicated father has had many fantastic titles throughout his life and career, but his title of choice remains: citizen. Honest and heartening, "Citizen Mack: Politics, an Honorable Calling" (hardcover releasing today from Brown Books Publishing Group) is Senator Mack's memoir of an 18-year journey to and from Capitol Hill. After a family death in Florida and the realization that his greatest desire was to serve others and run for office, Mack packed his bags and moved his family to D.C. to serve as a representative and eventually a senator for Florida.
Alongside the likes of John McCain, Joe Lieberman and Newt Gingrich, Mack helped usher in the turn of the century. From speaking at the National Prayer Breakfast, addressing the American Israel Public Affairs Committee, casting historic votes on the issues of sending troops to war, to the impeachment of a president and the nomination of a controversial Supreme Court justice, Mack's account of his time in office is captivating and gives outsiders a front row seat to the world of Washington D.C.
"'Citizen Mack' is a wonderful book about a very full life," Vice President Dick Cheney said. "Connie Mack was successful in politics - he never lost a race - but he also understands that there is a world beyond Washington and the next campaign. His account of his spiritual journey is honest, humble, and explains much about the man and his life of service."
Threaded with candid stories, "Citizen Mack" encourages anyone considering a life in politics to do so with passion, and most importantly, with the motivation of improving people's lives. Mack believes in serving one's country and always maintaining humility by remembering that you are first and foremost a citizen.
For more information about the author and his book, please visit http://www.SenatorConnieMack.com. For media inquiries or to request a book for review, please see the contact information to the right and reach out to a member of The Agency team.