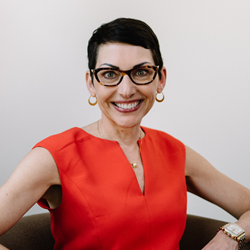 GXG welcomes Carey Bongard to its Executive in Residence program as Practice Lead for its one-to-one engagements focused on leader and succession readiness.
ATLANTA (PRWEB) September 25, 2019
Atlanta-based GXG welcomes Carey Bongard to its Executive in Residence program as Practice Lead for its one-to-one engagements focused on leader and succession readiness. In her most recent roles, Bongard's leadership responsibilities included global human resources, organizational development, global mobility, corporate and marketing communication, talent acquisition, learning and development, talent management and inclusion, all of which will support her role to help GXG clients grow by reaching beyond their core competencies.
Bongard hails from Assurant, Inc., having most recently served as senior vice president, Global Talent Management and Development from 2016 to 2019. Prior to this position, she was executive vice president, Human Resources, Organizational Development and Communications for one of its subsidiaries from 2011 to 2016.
"I've personally experienced the value of working with GXG as a former client in their One-to-One program and as a member of an Advisory Board while I was an executive for Assurant Solutions," said Bongard. "The GXG Rapid Cycle Learning approach increased the velocity of leadership development initiatives at Assurant to help us achieve our goals, and I'm excited to be on the other side of the equation as an Executive in Residence to help other businesses undergoing transformations and seeking solutions to get unstuck."
In today's disruptive business environment, the only way for companies to grow is to innovate beyond their core competencies; however, many senior teams are limited to people who specialize in executing in the core. GXG facilitates intentionally programed conversations with expert-operators to deliver real business results with over $400M in impact so far, all while driving critical decision-making and cultural alignment within organizations.
"Carey's wealth of experience will help us identify knowledge gaps and create a learning ecosystem that includes sourcing external operators with the right combination of knowledge and experience for client needs across industries, roles, and functional areas," said Craig Lemasters, CEO, GXG. "Our goal is to bring in unique and surprising external viewpoints that lead to creative solutions, and we're thrilled to have Carey on board to facilitate conversation, synthesize takeaways and help clients act on key learnings."
Bongard is a graduate of the University of Wisconsin-Madison with a Bachelor of Business Administration degree in Risk & Insurance. She earned her master's degree in professional development and executive coaching from Middlesex University, London. Carey joined the Dean's Advisory Board for the Wisconsin School of Business in 2014 and was its chair from May 2016 to April 2019; she is now an emeritus board member. Additionally, Bongard served as a mentor for Atlanta Tech Village, a collaborative community for start-ups, and continues to mentor high-potential leaders.
About GXG
GXG is a new kind of consulting firm that empowers organizations to move from ideation to execution, delivering measurable impact on major strategic initiatives. With experience across 15 industries and over 80 topic areas, GXG diagnoses the critical knowledge gaps between their client's core competencies and where they're trying to go. By connecting senior leaders and their teams with the perfect mix of knowledge and experience, GXG clients gain the knowledge and tactical acumen to accelerate transformational, technological, and operational objectives. GXG serves as an unbiased guide to ensure all interactions focus on what their clients can do differently to achieve the desired business results and get unstuck. To date, GXG has delivered over $400M in impact for clients seeking solutions to bring business initiatives to fruition. For more information, visit http://www.gxg.co.
Media Contact: Megan Kogan, mkogan@gxg.co, 770-843-3816