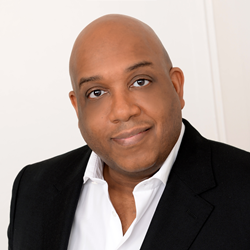 Once you decide that to truly serve and support your people you need to focus your efforts on eradicating injustice and eliminating inequity, while embracing diversity, and enhancing inclusion. It is at this point you are becoming a J.E.D.I. Leader. - Former GM, Author, and Speaker Omar L. Harris
CHARLOTTE, N.C. (PRWEB) May 17, 2021
To help future leaders succeed, Former GM, Author, Coach, Intent Consulting Founder and Tympio.io Inclusion App Founder Omar L. Harris will give the Keynote Speech at the Leadership Harrisburg Area Galactic Graduation Event on Wednesday, May 26, 2021, 11:00am – 1:00pm EST, titled: "From Servant Leadership to JEDI Leadership." This inspirational event will celebrate three graduating classes at FNB Field with approximately 400+ participants on Harrisburg's City Island, where family, friends and colleagues can gather safely outside to celebrate.
To encourage leaders to evolve beyond Servant Leadership, Harris will discuss why J.E.D.I. Leadership (social justice, equity, diversity and inclusion) is a must for corporations, small businesses and entrepreneurs to thrive moving forward with leadership examples. With every company re-evaluating their DEI (Diversity, Equity and Inclusion) strategy, Harris believes that all managers must be part of the solution versus just hiring a Chief Diversity Officer.
During this Keynote, Harris will emphasize, "Once you decide that to truly serve and support your people you need to focus your efforts on eradicating injustice and eliminating inequity, while embracing diversity, and enhancing inclusion. It is at this point you are becoming a J.E.D.I. Leader."
Based on 20+ years of executive leadership experience at global pharmaceutical companies (Pfizer, Merck, Schering-Plough, GSK, Allergan and more), Harris successfully led diverse teams on four continents (U.S., Middle East, Asia and Latin America), and now helps organizations and managers advance at all levels.
While working as the GM for Allergan in Brazil in 2020, Harris was the only African-American GM in the world for this global pharmaceutical company. And with almost 90% of Fortune 500 CEOs being white males (yet they represent only 35% of the population) and less than 1% (3) African American CEOs, Harris believes that major change is needed. Attendees will hear how Martin Luther King Jr's final speech, "I've been to the Mountaintop" (April 3, 1968) had many powerful messages, along with Servant Leadership and J.E.D.I. Leadership examples from today.
Based on his Harris' new book, "Be a J.E.D.I. Leader, Not a Boss: Leadership in the Era of Corporate Social Justice, Equity, Diversity, and Inclusion" (Summer 2021) and global leadership experience, his keynote will highlight:

Why J.E.D.I. Leadership goals matter so much today for future business success.
How Servant Leaders are uniquely positioned to deliver J.E.D.I. Leadership.
Why managers today must shift from "Me to We."
How to apply leadership lessons from Martin Luther King Jr's Final Speech.
How Martin Luther King Jr. used "humility, will and empathy" to transition from Servant Leader to J.E.D.I. Leader.
How current CEOs have successfully used both Servant Leadership and J.E.D.I. Leadership to address social justice, equity, diversity and inclusion today.
Why companies need to shift from shareholder capitalism to stakeholder capitalism to improve outcomes for employees, customers, communities, the environment, and shareholders.
GRADUATION EVENT:
WHAT: Leadership Harrisburg Area Galactic Graduation Event
SPEAKER: Keynote by Omar L. Harris
WHEN: Wednesday, May 26, 2021, 11:00am – 1:00pm EST
WHERE: FNB Field, City Island, 245 Championship Way, Harrisburg, PA 17101
RSVP and Sponsorships:
https://www.eventbrite.com/e/lha-2021-graduation-celebration-registration-145764466443
ABOUT THE EVENT HOST:
Leadership Harrisburg Area (LHA) is private, nonprofit organization dedicated to improving Pennsylvania's Capital Region through servant leadership and effective community service. It is a bridge between people, businesses, and organizations that address the greatest needs of their communities. The organization was established in 1986, and has an alumni base of 1200 business and community leaders throughout the region.
ABOUT OMAR L. HARRIS – LEADERSHIP BOOKS
Be a J.E.D.I. Leader, Not a Boss: Leadership in the Era of Corporate Social Justice, Equity, Diversity, and Inclusion (Summer 2021)
https://www.omarlharris.com/comingsoon
The Servant Leader's Manifesto – Book (2020) and Audiobook (2021)
https://www.amazon.com/gp/product/173488150X/ref=dbs_a_def_rwt_bibl_vppi_i3
Leader Board: The DNA of High Performance Teams (Leader Board Series) (2019)
https://www.amazon.com/Leader-Board-High-Performance-Teams-ebook/dp/B07QMJSMV3
MEDIA CONTACT for Omar L. Harris:
Liz Kelly, 310-987-7207
ABOUT: OMAR L HARRIS (Charlotte, NC, born in Pittsburgh, PA) is the founder of Intent Consulting and TYMPO.io (the world's first and best SaaS application for employee inclusion), a Former GM (GSK and Allergan), Business and Servant Leadership Thought-Leader, Motivational Speaker, Award-Winning and Bestselling Author of 5 books, including "Be a J.E.D.I. Leader, Not a Boss: Leadership in the Era of Corporate Social Justice, Equity, Diversity, and Inclusion" (Summer 2021), "The Servant Leader's Manifesto" (2020), and "Leader Board: The DNA of High Performance Teams" (2019). With 20+ years of global pharmaceutical executive experience building teams, Omar has worked on 4 continents for Pfizer, Merck, Schering-Plough and more. As a Gallup Certified Strengths Coach and Entrepreneur, Harris is passionate about leading teams, high-performance coaching, and inspiring future leaders of today and tomorrow to adopt the servant leader mindset and stop toxic leadership behaviors. He is also the Co-Author of "From Authors to Entrepreneurs F.A.T.E.: The Personal Side of Indie Publishing" (2015) and Author of the Award-Winning "One Blood" fiction book (2011, pen name, Qwantu Amaru – currently being developed into a television series). Harris was a featured speaker at the 2021 International Institute of Leadership Conference with his compelling topic: "The End of the Boss – 7 Rules for the Modern Leader" (March 2021), along with his work being featured on CNN HLN Weekend Express, WPXI-TV NBC Pittsburgh, Black News Channel, The Beating Alpha Podcast, The Living Corporate Podcast, Real Leaders, SHRM Blog, Thrive Global, CEO World Magazine, Human Capital Innovations (HCI) Podcast, VoiceAmerica and many more media. As fun facts, Omar speaks 5 languages, plays 7 instruments, and started his first company at the age of 7. https://www.omarlharris.com