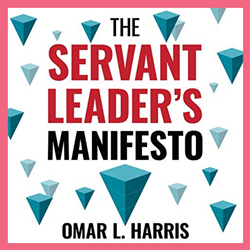 "Servant leaders understand that personal effectiveness creates the reservoir of will needed to lead with positivity, proactivity and passion." - Bestselling Author, Coach and Speaker Omar L. Harris
CHARLOTTE, N.C. (PRWEB) February 11, 2021
During a time when Servant Leaders are needed more than ever, Former GM, Bestselling Author, Motivational Speaker, Coach Omar L. Harris announces the release of the new audiobook (February 2021) for his bestselling book "The Servant Leader's Manifesto" on Amazon, Audible, and iTunes. Based on 20+ years of global pharmaceutical leadership experience on 4 continents, Harris offers solutions for frontline managers to address the current "employee engagement crisis" with only 15-30% of the global workforce engaged at work.
In this new audiobook, Award-Winning Author Omar L. Harris narrates "The Servant Leader's Manifesto" that is based on first-hand examples leading corporate enterprise teams in the United States, South America (Brazil), Indonesia, and the Middle East (Turkey and Africa). As a continual learner, Harris also shares insights from well-known authors such as Simon Sinek ("Start With Why"), Jim Collins ("Good to Great"), Ken Blanchard ("The Servant Leader") and many more.
In this new leadership era, Harris emphasizes; "Trust is the currency of Leadership 3.0, because we are living through arguably one of the most tumultuous ages in history."
"The Servant Leader's Manifesto" (2020) builds on the principles Harris laid out in "Leader Board: The DNA of High Performance Teams" (2019). The author believes that this latest book will add the greatest value to new managers, supervisors, and anyone considered middle management. This focus is based on a strong belief that change needs to come from the leaders whose teams support customers versus a top-down model.
In this action-oriented audiobook, book and eBook, Harris highlights, "Servant leaders understand that personal effectiveness creates the reservoir of will needed to lead with positivity, proactivity and passion." And this passion includes an openness to learn and lead a mission-driven team.
Because "no leader is perfect", Harris speaks openly about servant leadership, lessons learned and 2021 solutions using 7 key points, including:

What is Servant Leadership – and why the time is now for more managers to embrace this leadership style.
How Leadership Styles Impact Teams – and the importance of flipping the traditional top-down hierarchy so everyone works for the "Customer" versus a boss.
How to Manifest Personal Effectiveness – including your M.H.T. (Mindset, Habits, Tracking) and the importance of identifying the strengths of each individual.
How to Use Influence, Not Authority based on Trust – including personal examples of how to leverage influence, even if you don't have authority.
How to Leverage Positive Psychology for Success – including changing your view of weaknesses with examples from Gallup's Clifton Strengths Assessment.
How to Focus on Your Team versus Individual Talent – and lead teams with a more inclusive approach to achieve success together.
How to Lead with Love – with Martin Luther King Jr as an example, Maslow's Hierarchy of Needs and the Employee Engagement Hierarchy.
This Servant Leader's "Manifesto" is Harris' "public declaration of intentions, opinions, objectives or motives" for the new Leadership 3.0 based on the author's personal experiences, and advice tips from well-known leadership thought-leaders. And with this new audiobook, readers have access to more formats to build knowledge as a leader.
AMAZON
The Servant Leader's Manifesto – Audiobook (February 2, 2021)
https://www.amazon.com/The-Servant-Leaders-Manifesto/dp/B08VNQ1BDD/ref=tmm_aud_swatch_0?_encoding=UTF8&qid=1613001087&sr=8-2
Leader Board: The DNA of High Performance Teams (Leader Board Series) (April 2019)
https://www.amazon.com/dp/B07QMJSMV3/ref=sr_1_1?keywords=Leader+Board&qid=1555283815&s=digital-text&sr=1-1
MEDIA CONTACT:
Liz Kelly, 310-987-7207
ABOUT
OMAR L. HARRIS (Charlotte, NC and born in Pittsburgh, PA) is a Bestselling Author of 5 books, Team Leadership Thought-Leader, Gallup Certified Strengths Coach, Entrepreneur, Intent Consulting Managing Partner and 20+ year veteran of the global pharmaceutical industry (GSK, Pfizer, Merck, Allergan and more) and Award-Winning Screenwriter (Fade in Awards Grand Prize for TV Pilot/Web Series). Based on building high-performance organizations on four continents, Harris shares his team leadership strategies and success stories in 3 new books: "Be a J.E.D.I. Leader, Not a Boss: Leadership in the Era of Corporate Social Justice, Equity, Diversity, and Inclusion" (May 2021), "The Servant Leader's Manifesto" (April 2020) and "Leader Board: The DNA of High Performance Teams" (June 2019). He is passionate about leading teams, high-performance coaching and inspiring future leaders today and tomorrow to adopt the servant leader mindset and stop toxic leadership behaviors. While working in corporate, start-up, and entrepreneurial endeavors, Harris developed a compelling roadmap for leadership in the era of stakeholder capitalism, a clear blueprint for servant leadership, and 20 Team Performance Acceleration Principles that leaders at all levels can apply to improve and accelerate group success. His work has been featured on CNN HLN Headline News, Black News Channel, WPXI NBC Pittsburgh, KPLC NBC, ABC and FOX News Lake Charles, and in Real Leaders, SHRM Blog, Thrive Global, CEO World Magazine, Young Upstarts, Inside/Outside Innovation podcast, Leadership on Purpose Podcast, the Love Ideas Summit and more. https://www.omarlharris.com/