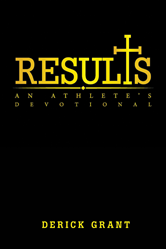 "There will be tough times in life, but if you trust [God] to carry you through those times, he will bring you to where you're supposed to be." - Derick Grant
PHOENIX (PRWEB) October 28, 2019
Former Harlem Globetrotters player and author Derick Grant has recently released the perfect devotional for those seeking to find comfort in God's plans for their daily lives. "Results: An Athlete's Devotional" is the perfect relatable holiday gift for basketball players, competitors of any sport and fans who are looking for motivation from a fellow Christian athlete.
In the 100-day devotional, Grant provides personal stories from his life—from playing with his high school team with dreams of becoming a pro basketball player, to joining his college team and finally realizing his ultimate goal of playing pro when he is signed to the Harlem Globetrotters. Grant uses lessons he has learned throughout his career along with Scripture to drive home his major message that God always has a plan for readers and is constantly working in the background to provide for them.
"To achieve the best results in life and sports, keeping God first is key," Grant says. "There will be tough times in life, but if you trust him to carry you through those times, he will bring you to where you're supposed to be."
Grant remarks that he wrote "Results" while experiencing one of the toughest points of his life. "The book was a means to cope with the mental struggle I was going through at the time. I had everything taken away, all I had left was my faith and family, and that really forced me to seek God and place my full confidence in him and his plan for me."
Since that dark period, Grant has completely rebuilt his life and is now a skills trainer. With his organization, Derick Grant Basketball, he coaches and mentors aspiring athletes and professionals. Grant helps them push their limits, realize their full athletic potential and achieve true progress in their own careers.
As for Grant, he believes this was all a part of God's plan for him. "I am so blessed to have had an international platform with the Globetrotters, where I could have such a positive impact on children's lives. Now, God has given me the opportunity to give back to the game by giving kids the same opportunities I was afforded."
"Results: An Athlete's Devotional"
By Derick Grant
ISBN: 9781973667544 (softcover); 9781973667537 (hardcover); 9781973667551 (electronic)
Available at WestBow Press, Amazon and Barnes & Noble
About the author
Derick Grant played for the Harlem Globetrotters for eight years, entertaining millions of fans around the globe in 70 countries. During his time with the Globetrotters, he sunk the first 4-point shot in basketball history during a nationally televised ESPN2 special in December of 2010. He is an alum of Ashford University, having earned his bachelor's degree in business leadership and a master's in organizational management, magna cum laude. Currently, Grant is a professional skills trainer who works with countless NBA and WNBA players as well as kids to give them the same opportunities he was afforded. To learn more about Grant, please visit http://www.derickgrantbasketball.com.
Contact:
LAVIDGE – Phoenix
Kalin Thomas
480-648-7540
kthomas(at)lavidge(dot)com