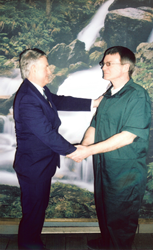 Mr. Blake is one of many inmates trapped in solitary in New York and beyond.
ALBANY, N.Y. (PRWEB) April 02, 2019
Award-winning author Tom Swyers announced the release of his third novel, "Caged to Kill," about a man set free after decades of solitary confinement in a New York prison. This book ("Caged to Kill," Hillcrest House Publishing, 2019, paperback ISBN 978-1-941440-03-2, $15.95; Ebook ISBN 978-1-941440-04-9, $4.99,) and his other works are available for purchase on Amazon.
Swyers said he was inspired to write the novel after the inmate William ("Billy") Blake sent him a random letter two years ago. "Billy sent about 20 random letters out to New York attorneys at the time asking for pro bono legal help to get him released from solitary. He knew nothing about me and I knew nothing about him. There are about 177,000 attorneys in New York and one of these letters ended up in my mailbox."
Billy Blake is essentially serving a life sentence for killing one police officer and wounding another near Syracuse in 1987 when he was 23 years old. He has never served one day outside of solitary confinement. Blake is reportedly the longest-held prisoner kept in administrative solitary confinement in New York State.
Swyers wrote back to Blake and explained that as a solo lawyer, he was ill-equipped to devote the necessary manpower and resources on his behalf. Such a legal battle would likely involve years of litigation and then years of appeals.
Then Swyers had an idea about how he might be able to help. A few weeks later, he again wrote Blake to say that perhaps he could raise awareness of his predicament by writing a work of fiction about a prisoner dealing with solitary confinement. Swyers asked Blake if he would help him research the topic. Blake agreed, and a two-year long pen-pal relationship ensued. "I didn't know if anything would come of our correspondence at the time," Swyers said. "But I decided to stick with it, especially after I learned that Billy was not able to get another law firm or lawyer to take his case. I didn't want to let him down too and, honestly, a part of me believed that I was supposed to write this story."
Over the course of the next two years, Blake hand-wrote Swyers over 300 pages of letters (on single-spaced, 8 ½ x 11, line-ruled paper) answering all of his questions about solitary confinement and Blake's specific situation. As it turns out, Blake is a prolific writer, too, having been awarded honorable mention from 1,500 entries in Yale Law Journal's 2013 Prison Law Writing Contest. Blake is also a poet and, coincidentally, bears the same name as the famous poet William Blake.
After two years of composing and rewriting, Swyers wanted to share a finished copy of the manuscript with Blake. Swyers said, "I was concerned about getting the finished manuscript to Billy. I thought it might be confiscated and land him in trouble. Certain reading material is not allowed in solitary. Fortunately, it all worked out. The manuscript wasn't confiscated and it got to Billy."
By reading Blake's letters and doing his own research, Swyers came to fully understand Blake's history in New York State's penal system. "I've read his disciplinary file and his segregation reviews for his prison stay. I've read nearly 1,500 pages of trial testimony during his 2005 case in federal court that he won against New York State for unconstitutional incarceration in solitary. I have personally met with Mr. Blake over the course of three days for about 15 hours total at the maximum security facility in Comstock, New York. I'm astounded that he's still being held in solitary. I believe Mr. Blake deserves an opportunity to live with the general prison population and today I'm calling for his release from solitary confinement."
Swyers also announced that he has started a petition on Change.Org calling for Blake's release from solitary confinement and for the passage in New York of the Humane Alternatives to Long-Term (HALT) Solitary Confinement Act, (A. 2500 / S. 1623), which is up for vote this term.
Swyers said, "In 2015, the US government voted for, and the United Nations adopted, the Mandela Rules, which prohibit any person from being held in solitary beyond 15 days because it's torture. Mr. Blake has been held in solitary for going on 11,680 days or nearly 780 times the limit allowed for by the United Nations. He lives in a 6' x 8' cell alone for 23 hours per day. He's allowed to roam outdoors in an empty cage alone for one hour per day for recreation. The screams and pounding of mentally disturbed inmates can be never ending and the odors can be overwhelming. For inmates like Mr. Blake, New York State has a policy of torture. It's time for that to end now with the passage of the HALT legislation."
Finally, Swyers announced that the "Caged to Kill" ebook would be offered at an introductory price of 99 cents on Amazon to help to raise awareness of the pending legislation and of the problems with solitary confinement policy. Swyers said, "It's important to realize that Mr. Blake is one of many inmates trapped in solitary in New York and beyond."
About the Author:
Tom Swyers is an attorney, former New York State judge, and an award winning author of three thrillers in the Lawyer David Thompson Legal Thriller Series: "Saving Babe Ruth"," The Killdeer Connection," and now "Caged to Kill." "Saving Babe Ruth" was the recipient of two Benjamin Franklin Book Awards in 2015 and "The Killdeer Connection" was selected as a 2017 winner in an international writing competition sponsored by Amazon. Swyers lives with his family outside of Albany, New York.
You can read more about Swyers, his books, and this story on his website, TomSwyers.com.