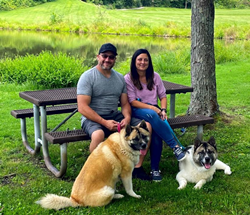 The quality of the food we are feeding our pets makes a huge difference on their overall health ... I'm looking forward to making fresh, healthy pet food and other products available in my community. - Kristen Quesada
SARATOGA, N.Y. (PRWEB) October 12, 2021
For more than 15 years, Kristen Quesada has been caring for people as a dialysis nurse. Now she's looking forward to expanding her passion for care to include pets with her new business: Pet Wants 518 of Saratoga and Schenectady County.
Pet Wants' specially-crafted, private-label pet food formulas are made in small batches with fresh, natural ingredients enhanced with vitamins and minerals for a complete and balanced diet in every bowl, all made in the USA. Pet Wants 518 of Saratoga and Schenectady County has multiple blends of dog and cat food formulas as well as healing salve, calming balm, anti-itch spray, paw wax and more.
"The quality of the food we are feeding our pets makes a huge difference on their overall health. It's just like with humans – we understand it's important to eat healthy and, when we do, we feel better. I'm looking forward to making fresh, healthy pet food and other products available in my community," Kristen said.
Pet Wants 518 of Saratoga and Schenectady County is a mobile business that offers free, personal delivery to Saratoga, Burnt Hills, Ballston Spa, Clifton Park, Mechanicville, Waterford, Scotia, Glenville and the surrounding areas.
Kristen opened the business with her husband, Rae, a 20-year Union Electrician and the support of her two kids – Justin and Joshua – and step-son, Ryan. The family has two Akitas named Jax and Chloe. The journey to Pet Wants started when Kristen was diagnosed with an essential tremor, which made it difficult to continue her career in nursing. Although she couldn't be a nurse anymore, she also didn't want to give up working toward helping her clients and patients live longer, healthier, happier lives. That's what brought her to Pet Wants.
"As I was doing my research into my next journey, I found Pet Wants and was really struck by the company's focus on fresh, healthy food that can help pets live better lives. We'd been cooking for our dogs for years because of Chloe's allergies, so it was easy to see how something like Pet Wants could really benefit families and their pets. When we did the taste challenge, Jax and Chloe picked Pet Wants over their fresh cooked food," Kristen said.
Pet Wants has a money-back guarantee on the freshness and quality of the food, the company only sources the best salmon, chicken, lamb, brown rice and other ingredients available. There's no sugar added, no fillers and no animal by-products and Pet Wants never uses corn, wheat, soy or dyes, which makes the food great for animals with allergies.
To learn more about Pet Wants 518 of Saratoga and Schenectady County, call 518-316-2251, email KQuesada@PetWants.com or visit http://www.petwants.com/518.