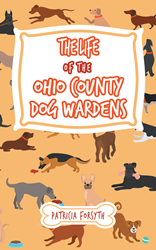 "To help prevent euthanasia of the dogs, I was one of the first Dog Wardens to start spaying and neutering them before they could be adopted as well as putting microchips in them. Because of this program, they do not put down dogs anymore at the location I worked at."
FREMONT, Ohio (PRWEB) January 07, 2020
Author Patricia Forsyth was a local Ohio-based County Dog Warden for over 25 years where she collected an array of true stories from her time on the job as well as from her employees (names have been changed) to help promote the importance of dog ownership responsibilities.
In her educational new book, "The Life of the Ohio County Dog Wardens" Forsyth details the trouble dogs can into if they are not confined, if they are let loose all day while the owner is away and assumes they are home, and various other problems they can cause if not properly cared for. She also explains how local dog wardens or animal control receives funding to service their county and pay employees.
"It was fun working with the dogs and people, but it was also hard to have to put dogs down," explained Forsyth. "To help prevent euthanasia of the dogs, I was one of the first Dog Wardens to start spaying and neutering them before they could be adopted as well as putting microchips in them. Because of this program, they do not put down dogs anymore at the location I worked at."
An informative book, "The Life of the Ohio County Dog Wardens" will benefit and educate dog and pet owners, people who do not know what to do when they have a problem dog in the neighborhood as well as local County Commissioners, Mayors and State Legislators and more. For additional information, please visit http://www.ohiodogwardens.com.
"The Life of the Ohio County Dog Wardens"
By Patricia Forsyth
ISBN: 978-1-7283-1184-5 (sc); 978-1-7283-1183-8 (e)
Available through Amazon, Barnes & Noble and AuthorHouse
About the Author
Patricia Forsyth currently resides in Fremont, Ohio where she was born and raised and graduated from Ross High School. She has always had a love for animals and got her first dog when she was a junior in high school. Since her marriage, her and her husband have had German Shepherds, Great Danes, a Doberman, a Shetland Sheepdog, Collies, a Poodle and currently an Australian Cattle Dog named Jake. She is a charter member of the local Humane Society and was her local Dog Warden for over 25 years where she started a program to spay and neuter and microchip dogs before their adoption.
For Review Copies & Interview Requests Contact:
LAVIDGE
Lauren Dickerson
ldickerson@lavidge.com
480-998-2600x601