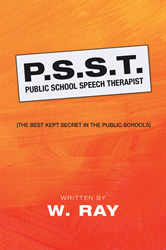 "I love working with children and speech therapists truly are the best kept secret in the public schools as this role can change the lives of the children they work with." - W. Ray
LAKELAND, Fla. (PRWEB) April 27, 2020
With school campuses around the world closed due to the COVID-19 pandemic, making sure children have access to free public school programs is more essential now than ever. Professional speech-language pathologist and author W. Ray worked in public schools across the country for 16 years and through her various experiences, some positive and many not, Ray felt the need to raise awareness of the importance of speech therapists in public schools in hopes for more recognition and support for what they do.
In her new book "P.S.S.T. – Public School Speech Therapist: (The Best Kept Secret in the Public Schools)," Ray takes readers on an informative and entertaining journey through the life of a speech therapist working in public schools. After working and surviving in the trenches of public schools in five states and eight school districts, Ray found that the situation was the same for public school speech therapists in all states.
"I love working with children and speech therapists truly are the best kept secret in the public schools as this role can change the lives of the children they work with," said Ray.
"However, it is easier to work as a speech therapist in medical and corporate fields than in the school system due to the major lack of support and materials which restricts therapists from being able to properly do their job."
Ray shares stories not only about all the wonderful things that have happened to her, but also of the bizarre things she has encountered. She hopes her experiences will alert principals, superintendents, teachers, parents, architects, building planners and other professionals of the real life situations public school speech therapists deal with every day so they can be well equipped to serve the children they are providing speech and language therapy for. To learn more, please visit http://www.wrayauthor.com.
"P.S.S.T. – Public School Speech Therapist: (The Best Kept Secret in the Public Schools)"
By W. Ray
ISBN: 978-1-7283-4268-9 (sc); 978-1-7283-4267-2 (hc); 978-1-7283-4266-5 (e)
Available through Amazon, Barnes & Noble, and AuthorHouse
About the Author
W. Ray completed her Bachelor's in Speech-Language pathology from Fontbonne University and her Master's degree in the same field from Western Illinois University and later received her doctorate degree in Child and Youth Studies from Nova Southeastern University. She worked in the public schools for 16 years in a variety of districts and states and has been a speech-language pathologist for over 40 years. Ray currently resides in Lakeland, Florida.
For Review Copies & Interview Requests Contact:
LAVIDGE Publicity
Lauren Dickerson
ldickerson@lavidge.com, 480-306-7117