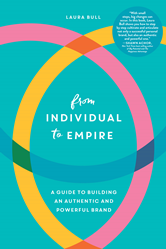 With small steps, big changes can occur.
DALLAS (PRWEB) February 05, 2020
l Laura Bull spent ten years with Sony Music Entertainment, becoming one of the company's youngest executives and spearheading artist development and marketing for globally recognized brands including Carrie Underwood, Brad Paisley, and Jake Owen among others. An expert who specializes in transforming entrepreneurs into viable brands, she now draws from years of professional experience with Sony Music Nashville to teach others what it takes to become a powerful "influencer" in her new book "From Individual to Empire: A Guide to Building an Authentic and Powerful Brand" (River Grove Books).
"Laura has achieved something remarkable," says Thomas R. Baldrica, former Vice President of Marketing, Sony Music Nashville. While other books may tackle the idea of branding, Bull livens it up with vivid examples, psychological insights, and quick-witted prose. She knows her audience and provides them with a straightforward, assertive, and sometimes humorous narrative approach to the topic.
Informative, entertaining, and engaging she makes frequent references to stars, moguls, and entrepreneurs to provide a fun experience, while laying out clear steps and smart strategies for people to achieve their goals on their own terms. From Individual to Empire provides readers with broad tips, tools, and advice, as well as exercises and additional resources that offer real-world support to tackle your own engaging, competitive, and authentic brand identity.
Shawn Achor, New York Times best-selling author of Big Potential and The Happiness Advantage says, "With small steps, big changes happen. Laura Bull shows you how to step by step cultivate and articulate not only a successful personal brand, but also an authentic and powerful one."
Whether the reader is an artist, performer, politician, journalist, author or thought leader, the key is learning how to turn a personal brand into a viable business brand like Martha Stewart, and how to be competitive and authentic in the marketplace like Ellen Degeneres. But what is the true definition of an influencer? How do you influence an audience?
Bull marries psychology of influence and positive psychology into the branding process in a never-before-seen approach to branding, contextualizing the concept of a "brand" in a manner that is insightful and surprising. By using real-world examples, she urges people to think about their own unique talents and contributions in order to present their product to the world in an authentic way. Highlighting her proprietary Brand Matrix, she helps the reader discover their unique brand where the three major elements of a brand (product, image, and narrative) coexist. She then offers up tips and advice on how to keep that brand consistent for the next twenty years while the influencer's lifestyle or life priorities are sure to change.
With hard work, and this book, you'll learn how to build, boost, and sustain an authentic and competitive brand that can take you From Individual to Empire.
To learn more, visit: https://www.laurabull.com/
Books are available online and bookstores
Laura Bull spent ten years with Sony Music Entertainment where she became one of the company's youngest executives at the age of twenty-eight. During her tenure, she spearheaded artist development and marketing for globally recognized brands including Carrie Underwood, Brad Paisley, and Johnny Cash among hundreds of other artists from Arista, RCA, Columbia, Epic, and Monument records. A veteran of the music industry, she has served for more than a decade on the National Advisory Board for Musician's On Call.
She is an expert who specializes in marketing and transforming people into viable brands by offering insurmountable knowledge to teach others what it takes to become a powerful "influencer." Everyone in the marketing arena keeps discussing the power of influencers, but no one is discussing how an influencer becomes powerful. Now she redefines the term "influencer" by expanding its scope offline, highlights positive psychology principles in terms of branding, and reveals the proprietary Brand Matrix to help entrepreneurs discover their authentic and competitive brand.
A consultant and speaker, Bull has been an adjunct professor for six years teaching disciplines in marketing and music business at multiple colleges and universities including SMU's Temerlin Advertising Institute. She has a BBA from Belmont University's Mike Curb School of Music Business and a Master of Liberal Studies from Southern Methodist University.
She currently resides in Dallas with her husband and daughter.
# # #