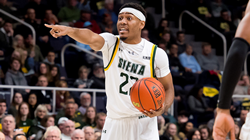 GENEVA, Ohio (PRWEB) June 15, 2020
Jalen Pickett, Metro Atlantic Athletic Conference (MAAC) Player of the Year, Mid-Major All-American and SPIRE IA Men's Post Grad Basketball team alum, was playing the best basketball of his career when he was stopped dead in his tracks. Now a shooting guard with the Siena Men's Basketball Team, Pickett was leading his team in scoring in mid-March— winning 10 games in a row and racking up a 20-10 record before everything ground to a halt. But it wasn't an injury or a 7-foot defenseman that sat the 6-foot-4 sophomore guard on the Siena Saints bench. Along with every other college athlete, the coronavirus cut Pickett's season short and placed his possible NBA future on hold.
Pickett played high school basketball for the Aquinas Institute in his native Rochester, New York. As a junior, he earned MVP honors while leading his team to a New York State Public High School Athletic Association Class AA championship. During his senior season, Pickett averaged 20 points and 10 rebounds per game while leading Aquinas' L'il Irish to a Class AA Federation Final. Pickett went on to play for the Albany-based program City Rocks on the Amateur Athletic Union (AAU) circuit, where he led the Nike Elite Youth Basketball League in player efficiency.
After spending a post graduate year at SPIRE Institute and Academy in Geneva Ohio, Pickett was academically eligible, physically ready and mentally prepared to have a stellar career in the National Collegiate Athletic Association (NCAA). While a student-athlete at SPIRE IA, Pickett averaged 15.5 points, 6.4 assists, 4.6 rebounds, 1.5 steals, and one block in 62 career games. The former Aquinas star also shot 44.6 percent from the field, converting 72.6 percent of his free throws.
Considered a three-star recruit by Rivals™, widely considered the definitive source for basketball-related news and information, Pickett chose the Siena Saints Men's Basketball Team from several Division 1 offers. As a freshman, Pickett averaged 15.8 points, 4.6 rebounds, 2.1 steals and 6.7 assists per game, ranking him ninth nationally and earning him Rookie of the Year honors and a spot on the All-MAAC first team. After a career-high 46 points and 13 assists in a 107–100 triple overtime loss to the Quinnipiac University's Bobcats, Pickett declared for the 2019 NBA draft. He participated in the G League Elite Camp, eventually opting to return to Siena for the 2019-2020 season.
When the COVID-19 pandemic closed down the NCAA in March of 2020, Pickett was averaging 15.1 points and a league-leading 6.0 assists per game while shooting 37.4 percent from three-point range. Because the Saints had won the MAAC regular-season title, had entered the postseason as the No. 1 seed and had not been eliminated prior to the tournament's cancellation, the conference later declared the Siena Men's Basketball Team its conference tournament champion.