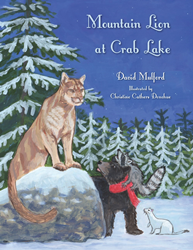 "I seek to stimulate the imagination of young people to be courageous and open to understanding unusual developments, including with animals, instead of being frightened and defensive about them." - David Mulford, author of The Mountain Lion at Crab Lake
DALLAS (PRWEB) April 07, 2020
David Mulford, former U.S. Ambassador to India and published author, teaches young readers about acceptance and kindness in his third addition to his children's series, The Mountain Lion at Crab Lake (releasing today from Brown Books Kids). In this charming story, a new arrival has all of the woodland friends trembling and cowering in fear. A mountain lion is something that neither Jeannie nor the woodland critters have seen before! Everyone is nervous about the mountain lion's intentions, but Jeannie has a feeling that there is more to him than meets the eye.
Through his book, David hopes "to stimulate the imagination of young people to be courageous and open to understanding unusual developments, including with animals, instead of being frightened and defensive about them." Told through expressive prose and illustrations, this book encourages readers to treat others with open minds and open hearts and is an enigmatic and heart-warming story that can be shared throughout years to come.
David's love and adoration for his wife, Jeannie, has served as his key inspiration in bringing these stories to life. Jeannie's love of the cabin at Crab Lake and the woodland creatures that reside there have given David's stories a uniquely endearing sentiment that is especially evident in his newest installment. This insightful and heartfelt series imparts lessons about bravery and compassion that children will carry with them.
David Mulford introduces a new inspiring tale with The Mountain Lion at Crab Lake that will warm the hearts of children and parents alike. For more information about the author and his series, please visit http://www.DavidMulfordBooks.com.