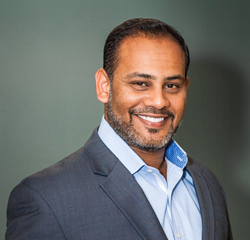 "I am thrilled to join Ad-Lib and work with our accomplished team to scale the company and serve our growing, global client base." — Manu Mathew, Ad-Lib, President, Americas
LONDON and BOSTON (PRWEB) November 23, 2020
Ad-Lib, a leading creative advertising platform for brands struggling to scale their digital creative, today announced that Manu Mathew will join the company as President, Americas and a member of its board of directors. This is a new role supporting the company's expansion across the Americas. Mathew has over 25 years of experience and most recently served as CEO of Visual IQ.
"I am thrilled to join Ad-Lib and work with our accomplished team to scale the company and serve our growing, global client base," said Mathew. "Numerous companies claim to offer solutions able to create high quality, relevant advertising at scale. Yet for most brands it remains a very disjointed and pain-riddled experience between creative and media teams. Ad-Lib is the first and only company I am aware of that makes it easy for brands to unlock the power of digital creative at scale to drive superior campaign performance."
Prior to joining Ad-Lib, Mathew was Co-founder and CEO of Visual IQ, a pioneer in the digital attribution space. Mathew led and scaled the company quickly, driving strong revenue and client satisfaction before leading the acquisition by Nielsen in 2017.
"Ad-Lib is poised for tremendous growth, particularly in the Americas where Manu has already built a strong business and is committed to serving," said Adit Abhyankar, CEO of Ad-Lib. "I have worked with Manu for over 10 years and he is an exceptional, well respected leader and entrepreneur. Manu brings his strong expertise in the area of measurement to the world of creative, helping us further build our product roadmap in the area of creative analytics and optimization. We are thrilled to have him on board to lead our expansion in the US."
As Mathew takes command of Ad-Lib's business across the Americas, he will expand the team to support customer demand, including sales, marketing and customer success roles.
About Ad-Lib
Ad-Lib is leading the reinvention of the Creative Management Platform for marketers at large brands, who struggle to scale their digital creative. Ad-Lib connects creative and media workflows using Intelligent Automation™, making it easy and fast to produce and optimize relevant ad creative across all digital channels. These ads are 60% more cost-efficient to produce, according to Ad-LIb's customers at 10 of the top 30 global brands. The venture-backed company headquartered in London, UK was founded by former Google executives who understood the need to close the wide gap between creative concepts and digital media execution.