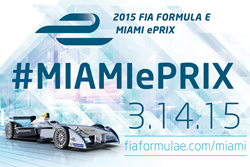 We are proud to be among the elite group of international cities hosting the FIA Formula E Championship.
Miami, FL (PRWEB) December 17, 2014
The FIA Formula E Championship will make its U.S. debut in Miami on March 14, 2015 and ticket sales to the groundbreaking event are now open to the public. Today's official Miami ePrix ticket launch comes in the wake of a very exciting Round 3 race at the Punta del Este ePrix in Uruguay last Saturday, where Sebastien Buemi and the e.dams Renault team clinched their first Formula E victory. The series remains tightly contested going into January's Buenos Aires ePrix, before Round 5 of the Formula E Championship will come in the form of the Miami ePrix—a pivotal event midway through the inaugural 2014/2015 season.
The Miami ePrix ticket launch represents a major milestone for the fully-electric racing series and for the City of Miami and Miami-Dade County. Local and series officials have long awaited the moment when the Miami public could help embrace this world-class motorsports event. "I'm pleased to be welcoming Formula E to Miami, the location of the first electric single-seater race in America," said Mayor of Miami, Tomas Regalado. "We are proud to be among the elite group of international cities hosting the FIA Formula E Championship." Mayor of Miami-Dade County, Carlos Gimenez shared Mayor Regalado's sentiments at the official Miami ePrix announcement in October adding, "The FIA Miami ePrix is precisely the type of international event that will showcase Miami-Dade as a world-class destination."
The Miami ePrix will include an eight turn, 2.17km circuit in Downtown Miami, along Biscayne Bay and around the streets of the American Airlines Arena. Hitting speeds in excess of 150 mph along Biscayne Blvd., Formula E drivers will compete in the heart of Miami for one of the most anticipated sport entertainment events of the new year. The picturesque street circuit is designed to highlight Miami's downtown as the setting for the fifth race in the inaugural Formula E season and the first of two events in the U.S. The Miami ePrix circuit layout is available online here.
Other than the race itself, which includes practice viewing and a qualifying session, the Miami ePrix will feature off-track entertainment including an e-village at the Perez Art Museum of Miami (PAMM) on the Friday prior to the event, as well as paddock attractions and exhilarating live music performances. Further details will be announced closer to the time of the event.
Tickets for the Formula E Miami ePrix are available through the Formula E website and TicketMaster. CLICK HERE TO PURCHASE TICKETS.
Ticket prices and information below:
Adult General Admission: $15 early bird ticket price until Jan 31. / $20 regular ticket price after Jan 31.
Junior General Admission: $5 early bird ticket price until Jan 31. / $10 regular ticket price after Jan 31.
Reserved Grandstand: $85
Skybox Hospitality: $225
Race Lounge at the Pérez Art Museum of Miami (PAMM): $670
For questions or more information, please contact info(at)andrettisportsmarketing(dot)com.
Notes to editors:
For further media information, including high-res images, fiiaformulae.com/media or contact FIA Formula E Communications Department at media@fiaformulae.com.
For local contact, please email estefania@andrettisportsmarketing.com.
Follow Formula E:
Twitter: Twitter.com/FIAFormulaE
Facebook: FIA Formula E
@FIAFormulaE #DrivetheFuture
Follow Miami ePrix:
Twitter: Twitter.com/Miami_ePrix
Facebook: Formula E Miami ePrix
Instagram: Instagram.com/FEMiamiePrix
@FEMiamiePrix #MiamiePrix
About FIA Formula E Championship:
Formula E is a new FIA championship series featuring open-wheel Formula cars powered exclusively by electric energy. The inaugural season will run from September 2014 to June 2015, competing in the heart of 9 of the world's most iconic cities including—London, Buenos Aires and Miami. Each race will be held on a street circuit where 10 teams, each with two drivers, will go head-to-head creating a unique and exciting racing experience designed to appeal to a new generation of motorsport fans. Formula E aims to represent a vision for the future of the motor industry over the coming decades, serving as a framework for R&D around the electric vehicle, accelerating general interest in these cars and promoting sustainability.
About Andretti Sports Marketing:
Andretti Sports Marketing is a leading experiential marketing, event production, sporting operations and entertainment logistics management firm with offices in Indianapolis, Miami, Ft. Lauderdale, Toronto and New York. For more information, visit http://www.andrettisportsmarketing.com.