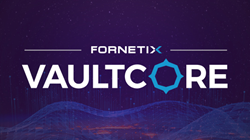 We are pleased to deliver VaultCore on Dell Technologies infrastructure hardware.
Frederick, MD (PRWEB) August 17, 2020
Fornetix, LLC today announced the selection of Dell Technologies Design Solutions to deliver its VaultCore™ encryption key management system on Dell Technologies storage and hyperconverged infrastructure platforms. VaultCore is a 1u or 2u appliance that slots into the management pod rack providing an integrated system for enterprise key policy and automation.
"We are pleased to deliver VaultCore on Dell Technologies infrastructure hardware. This solution will equip customers with embedded protection from cyber-attacks for storage, hyperconverged infrastructure, and more," said Mark Gilroy, CEO of Fornetix.
VaultCore provides a single-pane-of-glass for IT administrators and security professionals to manage encryption across the entire enterprise with precision, speed, and little impact on performance. A key feature of VaultCore is its Policy Engine which provides fine-grained inherited access controls for encryption giving enterprises the ability to define encryption key management use in line with their corporate policy. All of this works behind the scenes, automatically with no effort from an end user to offer consistent, secure encryption key management for applications, communications, and storage.
Users can easily schedule and automate the full encryption key lifecycle process and manage tens of millions of keys for large-scale environments. VaultCore is the only key management solution on the market with US provenance and secure supply chain ensuring integrity across the entire enterprise infrastructure. VaultCore can also employ FIPS 140-2 Level 3 validated protections by using an HSM.
The VaultCore solution enables security in various uses cases including IoT, Edge, Multi-cloud, and MSL. Examples include: Storage D@RE - enterprise approach to handling keys for heterogenous storage platforms; Data Center and Multi-Cloud - serves trust to DC components, servers switches, storage, and virtualization, extending to the cloud via VMware or Microsoft; Zero Trust/Multi-Tenancy - secure separation of network enclaves; Seamless integration with vRealize, NSX and VSAN; and for Edge/IOT, a remote kill switch keeps access points in the wild secure.
ABOUT FORNETIX
At Fornetix we understand that managing encryption in today's complex environment can seem an impossible task. That is why we created VaultCore, a simplified, automated, and secure encryption key management solution designed to address security challenges arising from the proliferation of IoT, big distributed networks, and rapid cloud adoption. Our commitment to standards and interoperability enable us to join forces with leading technologies around the globe to provide smart and unified security solutions that bring order to the chaos of encryption management. For more about Fornetix visit our website (http://www.fornetix.com) or follow us on LinkedIn and Twitter.