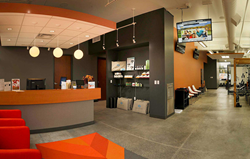 As our scoliosis treatments advanced in our own office we felt the need to education and work with other healthcare providers.
FORT COLLINS, Colo. (PRWEB) February 05, 2020
The highest trained chiropractor in Fort Collins, and Colorado, in scoliosis treatment, Square ONE and Dr. Chris Gubbels have expanded their practice to work with other healthcare professionals to improve the nonsurgical treatment of scoliosis patients in Northern Colorado.
At Square ONE, we believe that helping our patients achieve the best outcomes requires us to be at our very best as well. So we continuously strive to deepen our expertise, perfect our approach and advance our capabilities at every opportunity. We regularly consult with experts and specialist in key areas of care from around the world to provide the best treatment options for non-surgical spine correction.
Dr. Gubbels began his training in non-surgical methods of spine correction in 2011 when he began studying and implementing Chiropractic BioPhysics (CBP®). CBP® is a technique method that focuses on non-surgical spine rehabilitation to correct spine alignment and spine deformities. With hundreds of hours of postgraduate training, Dr Gubbels is the only chiropractor in Fort Collins with advanced certification in CBP®. In 2015 Square ONE became the first Scolibrace provider in Colorado. Scolibrace is a true custom 3D brace that can be made for infants, adolescents and adults. Square ONE not only does bracing for scoliosis but also other spine deformities such as thoracic hyperkyphosis.
In 2018 Dr Gubbels completed a Scoliosis Masters Program (which is now organized by Harvard), training with leading authorities worldwide in conservative treatment of scoliosis.
In 2017 Dr Gubbels was certified in SEAS (Scientific Exercise Approach to Scoliosis). SEAS is one of the most researched and proven rehab methods for the conservative treatment of scoliosis.
Dr Gubbels is a current member of SOSORT (The International Society on Scoliosis Orthopedic and Rehabilitation Treatment) and has had poster presentations at multiple SOSORT annual conferences. Dr. Gubbels has also been published in peer reviewed journals on non-surgical treatment methods for scoliosis and spine deformities.
"As our scoliosis treatments advanced in our own office we felt the need to education and work with other healthcare providers. Every June during scoliosis awareness month we do a dinner presentation on the conservative management of scoliosis for healthcare providers. We have also done webinars and spoken at Colorado Chiropractic Association district meetings to education other providers. In the few years we have began working closely with other chiropractors, physical therapies, medical doctors and surgeons to co-treat scoliosis patients."
About the author:
Dr. Chris Gubbels is a Fort Collins Chiropractor located at Square ONE. Dr. Gubbels specializes in non-surgical spine correction and rehabilitation with a specialization in spine deformities and scoliosis treatments in Fort Collins. To learn more about non-surgical treatment options visit http://www.squareonehealth.com.
Social Media:
Facebook: https://www.facebook.com/SquareONEhealth/
GMB Listing: https://g.page/SquareONEhealth
Twitter: https://twitter.com/chris_gubbels
Resources for your writer
https://www.scoliosismaster.org/