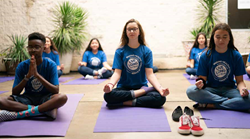 "Fort Worth stands as a new benchmark for the rest of America and for the world on what bold leaders can achieve when they invest in the health and well-being of their community."
MINNEAPOLIS (PRWEB) May 22, 2019
New research places Fort Worth in the top 20 percent of the country's cities after being close to dead last just five years before in 2013. According to the Gallup National Health and Well-Being Index, Fort Worth's 2019 equivalent rank for well-being now ties for 31st in the country.
In 2013, Fort Worth's equivalent rank was 185th out of 190 reported metro areas. Last year, the city's rank increased to 58th out of 186 metro areas, and now it has jumped even higher to 31st. Since Fort Worth embarked on a five-year effort to become a Blue Zones Community, the city has seen dramatic improvements in career, social, financial, community, and physical health—the five essential areas of well-being measured by the Gallup National Health and Well-Being Index (WBI). People in Fort Worth now smoke less (over 30% less!), exercise more, socialize more, and feel a renewed sense of pride in their city.
While much of the nation continues to see a decline in well-being, Fort Worth's overall Well-Being Index score rose from 58.8 in 2014, when the initiative launched, to 62.5 in 2018. Each sustained point increase in well-being for a population leads to approximately 2 percent reduction in hospital utilization, 1 percent reduction in total health care costs and 0.5 percent reduction in workforce lost productivity. This equals tens of millions of dollars of savings per year.
Blue Zones Project® is a community-wide well-being transformation initiative that works to shape the environment so that healthy choices are easy, and Fort Worth became a certified Blue Zones Community in November 2018.
Ben Leedle, CEO of Blue Zones and co-founder of Blue Zones Project, congratulates city leadership: "When we first engaged Fort Worth leadership six years ago, we together laid out the ambitious plan for the city to become the world's largest Blue Zones Community. We applaud Fort Worth leaders for having the foresight and courage to take on the challenge. Today, Fort Worth stands as a new benchmark for the rest of America and for the world on what bold leaders can achieve when they invest in the health and well-being of their community."
Dan Witters, principal at Gallup, said: "Fort Worth's latest jump in well-being, as the U.S. continues to decline, securely establishes it as a best practice example of what a community can accomplish when it sustains a focused commitment to well-being."
Fort Worth's transformation is the result of collaborated efforts from both the public and private sectors, including leadership by Mayor Betsy Price, lead sponsor Texas Health Resources, the Fort Worth Chamber of Commerce, and dozens of other participating organizations and businesses. These partnerships helped create healthier citywide policies, more walkable routes to school for youth, bike lanes for commuters, a new park and playground in one of the city's most underserved neighborhoods, and added healthy options to the menu at restaurants, grocery stores, schools, universities and workplaces. By working with city leaders, neighborhoods, employers, schools, restaurants, grocery stores, and faith-based organizations, Blue Zones Project sparked a citywide transformation that made it easier for people to move naturally, eat better, develop healthy social circles, and live with purpose.
"Blue Zones Project has had a dramatic impact on well-being in this community, and this ranking reflects that change," said Barclay Berdan, CEO of Texas Health Resources, lead sponsor of Blue Zones Project Fort Worth.
"This is an amazing transformation in just a few years, and it happened because our community is committed to prioritizing health and happiness," said Mayor Betsy Price of Fort Worth. "Working together, we have helped make Fort Worth an even more attractive place for businesses to relocate and for individuals and families to live, work, and play. I am confident we will continue to make Fort Worth one of the healthiest cities in the country."
About Blue Zones® and Blue Zones Project®
Blue Zones employs evidence-based ways to help people live longer, better. The company's work is rooted in explorations and research done by National Geographic fellow Dan Buettner in Blue Zones regions around the world, where people live extraordinarily long or happy lives. The original research and findings were released in Buettner's bestselling books The Blue Zones Solution, The Blue Zones of Happiness, The Blue Zones, and Thrive—all published by National Geographic books. Using original Blue Zones research, Blue Zones Project works with cities to make healthy choices easier through permanent changes to a city's environment, policy, and social networks. Participating communities have experienced double digit drops in obesity and tobacco use and have saved millions of dollars in healthcare costs. Currently, 48 communities in 11 states have joined Blue Zones Project, impacting more than 3.4 million Americans nationwide. Blue Zones Project is an exclusive partnership between Blue Zones and Sharecare. For more information, visit bluezones.com.