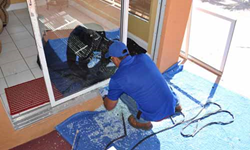 We are all about changing things up to make glass repair an easier and more enjoyable experience for our customers in Fort Lauderdale and nearby communities
Fort Lauderdale, FL (PRWEB) May 24, 2017
Express Glass & Board Up is proud to announce a newly updated local landing page for Fort Lauderdale residents. The page displays glass repair information in a lively, fun, fashion fitting the look and feel of what is arguably Florida's funnest city, Fort Lauderdale. Professional sliding glass door repair information has not been changed, but the overall look and feel of the website has received an upgrade. Local homeowners and businesses searching for top glass repair and replacement services can find both expert material and images.
"We are all about changing things up to make glass repair an easier and more enjoyable experience for our customers in Fort Lauderdale and nearby communities," commented Yaniet Santos, General Manager of Express Glass & Board UP. "So we thought why not upgrade the look to better highlight important glass repair information? So far the responses have been great, and it's just in time for the busy summer, fun-in-the-sun months."
To check the newly revised local landing page for Fort Lauderdale, Florida please visit http://www.expressglassfl.com/fort-lauderdale-glass-window-repair/. One should note not just the fun visuals but also the key list of available services and the links to social media reviews, such as on Google+. Interested parties are urged to click up to the blog, and to bookmark the blog page at http://www.expressglassfl.com/blog/tag/fort-lauderdale/ for new and lively posts planned for June, July, and August, 2017.
Sliding Glass Door Repair Offers Both Smarts and Style in Fort Lauderdale, Florida
Here's the rationale behind the visual updates. Many families across the United States could be booking summer vacation homes during spring. Tourists planning to visit Fort Lauderdale might desire rental homes displaying lovely beachside views. Family members may also want to find a spot close to activities unique to the Florida coastline. Finding a visually enjoyable place combined with proximity to the best Fort Lauderdale has to offer can be the perfect mix. Florida property managers preparing for the influx of vacationers may also be searching for the best in sliding glass door repair and replacement before summer arrives. Sprucing up a property for out-of-town guests can include reviewing patio doors and windows for wear and tear. If home glass appears to need help, using a service offering top skills and good-looking glass repair may be the best choice.
On the newly updated page, property managers and homeowners can review a beautifully laid-out web page offering quality information for expert glass repair. Cleanly organized content offers simple to access details for window glass replacement and sliding glass door repair support. Easy to navigate details for 24/7 emergency glass repair service can offer quick help. Beauty and brains can be the winning combination for a vacation destination. A visually appealing layout combined with the best information for sliding glass door repair can also be a preferable choice for property owners.
Fort Lauderdale property managers can rely on GWR Service to provide both smarts and style for glass repair.
About Express Glass Repair and Board Up
Express Glass and Board Up Service Inc. is a family owned and operated glass repair business with more than 20 years of experience. Professional technicians and the large variety of inventory make Express Glass the top glass repair service. If customers are looking for West Palm Beach window glass repair as well as glass repair in Delray Beach or Miami glass repair, please reach out to the company for a free estimate. If customers need a 24/7 Sliding Glass Door repair service in West Palm Beach or Boca Raton or Miramar, technicians are standing by. The company specializes in sliding glass door repair and window glass repair; technicians will handle any glass replacement situation efficiently. Home or business glass repair is the company's main priority.
Express Glass Repair and Board up
http://www.expressglassfl.com/