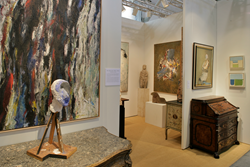 Foster-Gwin Gallery owner Collier Gwin "hopes that the exhibit will provoke visitors to see in our present world the tremendous influence of the past."
SAN FRANCISCO (PRWEB) October 10, 2018
Foster-Gwin Gallery focuses on an energetic period in Bay Area art at this year's San Francisco Fall Art & Antiques Show at Fort Mason Center, October 11–14, 2018. Noted as a top dealer in fine European antique furniture and antiquities, Foster-Gwin has also long collected and exhibited a large selection of high-quality Bay Area Abstract Expressionist and Figurative painting and sculpture from the late 1940s through 1960s. At the Art & Antiques Show, Foster-Gwin links Post-War artistic concerns and production with ancient artistic traditions in a unique framework, exhibiting Bay Area Abstract Expressionist art in conversation with exciting examples from antiquity.
Foster-Gwin is unique in presenting Post-War art in this long-range historical context, reflecting shared themes that transcend cultures and eras. The exhibit spotlights a generation of artists who played a vital role in establishing the Bay Area identity, centered in large part in the energetic atmosphere of the California School of Fine Arts—since 1961 the San Francisco Art Institute. Following World War II, San Francisco became a magnet for returning veterans and youth struggling to redefine the culture. It was a heady atmosphere where artists, writers, poets, and jazz musicians worked to translate life experiences into new artistic forms, and in the process developed a reputation for San Francisco as an open and tolerant city with a "live and let live" attitude. Against the conformational thrust of McCarthyism and the Cold War, the mood was revolutionary, improvisational, and resistant to established forms and structures.
The story of Post-War art in the Bay Area is powerful, and much of it revolves around the San Francisco Art Institute, particularly under the leadership of Douglas MacAgy and with support from the G.I. Bill. The mid-1940s to mid-1960s brought to SFAI a now-renowned group of artists as teachers, students, or visiting artists, among them Clyfford Still, Mark Rothko, Robert Motherwell, Frank Lobdell, Ernest Briggs, Edward Dugmore, Hassel Smith, David Park, Elmer Bischoff, Richard Diebenkorn, Manuel Neri, Jay DeFeo, Joan Brown, Roy De Forest, Nathan Oliveira, Peter Voulkos, Robert Arneson, and numerous others.
Unlike New York, Bay Area artists had few critics, collectors or contemporary galleries to support them, even though the San Francisco School rivaled the New York School for innovation, authenticity, and rebelliousness. Yet despite sparse commercial demand, their work did not go unnoticed: in San Francisco, astute curators at the Palace of the Legion of Honor and San Francisco Museum of Art (now SFMOMA) gave many of these artists their first museum exhibition and promoted their works to their New York colleagues. A large number of works shown by Foster-Gwin bring an impressive provenance, with exhibitions at MOMA-NY, The Metropolitan Museum of Art, Guggenheim and Whitney Museums, as well as important New York and national galleries and private collections.
For the Fall Art & Antiques Show, Foster-Gwin shows early works of art in dialogue with abstract paintings and contemporary sculpture; the bold gestural strokes and abstract fields of the paintings often mirror the patina of ancient stone, bronze, or marble. Greek and Roman marble and bronze sculptures and fragments add special insight to sculptures by Manuel Neri and Stephen De Staebler, and ceramic and stone objects from the first century B.C. stand harmoniously alongside Peter Voulkos's sculptures of fired clay.
Foster-Gwin's exhibit is organized around rooms titled "Ancient Sculpture, Contemporary Excavations; 500 B.C. to 1975 A.D."; "Painting Under the Influence of Nature"; and "Jean Varda: Dreams, Color, and Myths on the S.S. Vallejo. "
The Varda room is a must-see feast of color and fantasy, displaying the artist's constructions of paint, fabrics, and paper. "The artist is the modern alchemist," Varda said, "transmuting the refuse and scraps of civilization into splendorous visions." Jean Varda was a dynamic character who provided an amazing meeting (and party) ground when he and Gordon Onslow-Ford bought a beached ferryboat in Sausalito named the S.S. Vallejo. They converted it to studios and created common gathering areas where the likes of Henry Miller, Alan Watts, Roberto Matta, Allen Ginsberg, and countless other important writers, poets, musicians, and artists were constantly passing through.
Going forward, Collier Gwin "hopes that the exhibit will provoke visitors to see in our present world the tremendous influence of the past. Looking back, we are reminded that American Abstract Expressionism was the first specifically American movement to achieve international influence, take the center of art from Paris, and push it to New York and the United States."
"San Francisco and New York were the two major art centers in the U.S. at that time," he continues, "and the San Francisco School had an enormous influence that warrants great exposure. So while looking back, we also look forward, and with the help of the Art Institute and Bay Area Museums, we can take pride in this underexposed area of regional art history and help to create compelling permanent collections of this group of artists."
Foster-Gwin Gallery, fittingly located in North Beach, has occupied a 3,000 square feet gallery at 38 Hotaling Place since 1990, in a building designated Historical Landmark No. 11, which originally housed Hotaling Stables. Gallery: 415-397-4986; fostergwin.com
# # #