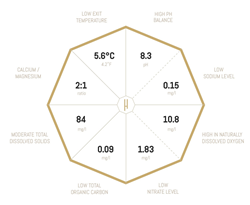 Hallstein Water is now available for home and office subscription delivery in 5-gallon bottles only, throughout Europe, the UK, and the United States. UNFILTERED. UNTREATED. UNCOMPROMISED.
NEW YORK (PRWEB) May 05, 2020
With the global interest in anything that will assist in boosting immune systems, the world is looking at hydration and the power of high alkaline water. However, the worldwide market for drinking water is extremely competitive and driven by marketing buzzwords. The water market generally favors the producer and not the consumer. Most bottling companies and municipalities use questionable drinking water sources, and in most cases the end result is a chemical cocktail.
Frustration over the lack of information and dubious quality standards drove the Austrian-American Muhr Family, with the help of researchers and water experts, to define a list of parameters on what true drinking water quality means. Their research yielded 8 core parameters with 4 more important points. The 8 are: pH, Sodium, Dissolved Oxygen, Nitrate, Total Organic Carbon, Total Dissolved Solids, Calcium to Magnesium Ratio, and Exit Temperature. While the 4 additional parameters are: Well Depth, No Treatment, No Pumping, and Filled Cold.
Rather than creating another synthetic product, the Muhrs were looking for a completely natural source that could fulfill those ideal values. Using the core parameter list, they thought it had to exist in nature.
At its core, the benefits of a good drinking water should boost the immune system, aid in avoiding inflammation and assist in cleansing.
Armed with the list of essential criteria for good water quality, the Muhrs contracted a team of geologists and hydro- geologists including the renowned Mag. Wolfgang Gadermayr to scout locations around the world that had the necessary geological attributes to produce this water.
In October 2005, an aquifer was struck that fulfilled the essential criteria the family was looking for – Hallstein Water. The source is located in the Dachstein region of the Austrian Alps, a UNESCO protected area. What followed was a rigorous testing procedure to determine that the aquifer itself was 100% sustainable and the quality never changed regardless of season. After acquiring 57+ permits, a state-of-the-art bottling facility was constructed with a continuously precision-welded stainless steel piping system to make sure the quality filled is pristine.
Hallstein Water is now available for home and office subscription delivery in 5-gallon bottles only, throughout Europe, the UK, and the United States, with additional shipping options globally. http://www.hallsteinwater.com
The Hallstein Octagon
Working with a team of scientists and water experts, we established 8 core parameters for defining drinking water quality. Using their criteria we began testing a large number of waters in laboratories. The results were eye-opening, revealing that there wasn't a single commercially available drinking water that met their criteria for "high quality", except Hallstein.
What water are you currently drinking?
Ensure the water you're drinking is of the highest quality. Check that it meets the 8 core parameters, in addition to the criteria below.
1. High pH Balance: 8.0–9.5
2. Low/No Sodium: (less than) 1 mg/l
3. High Naturally Dissolved Oxygen: (greater than) 10 mg/l
4. Low Nitrate Level: (less than) 3 mg/l
5. Low Total Organic Carbon: (less than) 0.15 mg/l
6. Moderate Total Dissolved Solids: 50–300 mg/l
7. Calcium / Magnesium Ratio: 2:1
8. Low Exit Temperature: (less than) 7C : 44F

From a Deep Artesian Well (below 100m)
No treatment of any kind
Filled Cold
Filled via Gravity
Delivery: Hallstein is delivered in 5 gallon (19 liters) Tritan BPA-free bottles, to keep your water fresh and uncompromised. We supply a small range of high quality dispensers that we recommend for the most convenient way to get your Hallstein from bottle to glass. Please visit our website for more information.
If you already have a dispenser, our bottles use a standard size cap fitting