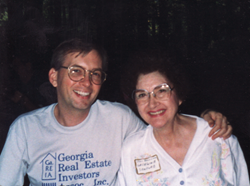 This foundation strives to impart to others, the same optimism, courage in facing the future, and unwavering dedication my mom had to our family. She possessed the ability to completely enjoy life, even in the face of adversity. - Lou Brown
ATLANTA (PRWEB) April 24, 2021
The G.D. Sanford Foundation today announced their founder has scheduled a May 1st workshop in hopes of helping families impacted by COVID find affordable housing.
In December of 1995, Georgina D. Sanford, an immigrant who loved her family, flowers, birds, singing in church choirs, and jewelry - died at 71. She came to America as a war bride in 1946 but soon found herself divorced and alone with a baby to raise. She faced the same problems single mothers face today; the need for childcare, working jobs where bosses don't understand sick children, enduring low wages, and no child support from deadbeat dads. Georgina lived paycheck to paycheck, lacking knowledge of how the credit system, the banking system, and the investment systems worked in our country. Because Georgina had no financial skills, no investment knowledge, or talent with money, life was a struggle to make ends meet. This was the background her only son, Lou, was raised in.
Lou knew at a very young age he had to help pay their bills. At age 9, he got a newspaper route and began his career in business. Things took a dramatic change for Georgina when at 18, Lou figured out how to invest in a piece of real estate. Today, 40 years later, Lou Brown is a bestselling author, real estate investor and educator who along with his wife Janice started the G.D. Sanford Foundation to honor the quiet, yet extraordinary life of his mother Georgina D. (Brown) Sanford. Because of his mother's experience and his childhood, Lou made it his mission to provide financial education to people in this country on how the credit system works, how to balance checkbooks, how to save, how to invest, how to buy that first house, how to eliminate the stress caused by financial pressures, how to learn from the past, and to preserve family in our world today. The foundation supports numerous charities which assist families in crisis, children, family life, and church as well as helping others to become self-supporting.
Their "Everyone Deserves A Home" program works with housing providers across the nation to deliver affordable housing within their community. These goals are reached by training the housing providers on programs they can offer wherever they live. This program embodies the foundation's mission to transform lives through affordable housing and to empower families and individuals to enjoy the American dream of homeownership. Hundreds of the companies who have agreed to provide these programs in their local communities have been awarded the G. D. Sanford Foundation "Community Affordable Housing Provider Award." This is given in recognition of the outstanding service each of those companies provide the local community and families in that community by offering these important programs that transform lives.
In the summer of 2020, Lou Brown began offering a virtual one-day training to provide assistance, education and help solve the interruption of financial and housing stress for families. The one-day, eight-hour training, called "Wealth Builder Workshop," is offered periodically on Saturday's at 10 AM EST and requires only a $1 admission fee. Interested parties may find out more or register at http://www.wealthbuilderworkshop.online
##