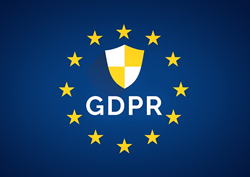 Europe is leading the way when it comes to data privacy and we want to encourage institutions to take the extra steps necessary to preserve an individual's right to privacy
SCOTTSDALE, Ariz. (PRWEB) December 04, 2018
This year's OEB Global, a cross-sector gathering of professionals from corporate, education and public services, is being held in Berlin, Germany. Here, the topics of discussion range from what is new in learning technologies to public policy that influences higher education & development professionals from around the world.
Mike Olsen, Founder & CEO of Proctorio, will chair a panel of speakers to discuss the "First Lessons Learnt" regarding the impact of GDPR. Conference attendees can bring content & questions to the discussion which will examine practical examples of how GDPR experts have navigated the policy within their respective organisations.
Other chairpersons include Paul Przemyslaw Polanski from Kozminski University, Poland; Miho Tanaka Gumpp from Enobyte GmbH; and Kristen Wolgast from Pinsent Masons Germany LLP.
Mike Olsen, stated, "Having a business that has to manage student data with the highest privacy standards gave us a leg up when GDPR became enforceable. Europe is leading the way when it comes to data privacy and we want to encourage institutions to take the extra steps necessary to preserve an individual's right to privacy."
The panel discussion on GDPR First Lessons Learnt takes place Thursday, Dec 6th from 16:30 - 17:30 in Room Kopenick II/III at OEB Global Berlin.
About Proctorio: Proctorio is a fully automated, remote invigilation service that provides a scalable, cost-effective solution to validating test-taker identities & originality during online exams. Proctorio ensures the integrity of distance learning and online certifications while protecting institutional accreditation, increasing the value of online degrees & credentials, and helping institutions grow their programs.
Proctorio's customizable, secure exam settings, recording options and live ID verification allow institutions to set-up unscheduled, on-demand invigilation specific to their assessment needs. Proctorio ensures fairness for test-takers by increasing accountability, securing exam content, deterring cheating, and promoting a culture of academic integrity while improving learning outcomes.
Click here to learn more about Proctorio's automated invigilation solution.