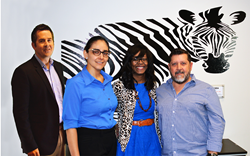 SAN DIEGO (PRWEB) November 21, 2019
With a newly secured $100 million in debt funding from Community Investment Management ("CIM"), Founders First Capital Partners ("Founders First") is expanding its support for businesses led by underserved and underrepresented entrepreneurs. Through this partnership, Founders First will broaden funding support to include companies with $1 to $5 million in annual revenue. Launching on January 13th in San Diego, the program expansion positions Founders First to be among the largest platforms in the country offering revenue-based financing for small businesses led by underrepresented founders.
Founders First combines an accelerator model alongside a direct funding model which allows businesses to grow and scale. The company primarily focuses on businesses led by people of color, women, and military veterans, and businesses located in low to moderate income areas less connected to the traditional funding networks of Silicon Valley and New York City. These businesses are often constrained for bank financing given limited inventory or accounts receivable to pledge as collateral and may not have the level of potential scale that would attract venture capital funding.
Along with its accelerator program, Founders First offers businesses revenue-based financing, an innovative funding mechanism that generally requires entrepreneurs to pay a fixed percentage of revenue up to a predetermined cap. This solution offers small businesses a highly attractive alternative that aligns with business performance, self-liquidates, and does not dilute ownership from business proprietors representing underserved backgrounds and communities.
"Founders First is very pleased to have secured such significant funding that allows us to expand our efforts to businesses that are led by underrepresented founders or those that serve underrepresented communities," said Kim Folsom, Co-Founder and CEO of Founders First. "The procurement of this debt funding signifies to us that there is a clear opportunity and interest in offering revenue-based investment to support positive outcomes for service-based, social-impact companies. With this partnership, we look forward to advancing our mission of helping small businesses grow to the next level and extend their economic impacts to communities that can most benefit from job creation."
Jacob Haar, Managing Partner of CIM said, "CIM is excited to partner with Founders First to expand revenue-based financing to support underserved and underrepresented small business founders, including people of color, women, LGBTQ, and military veterans as well as small businesses located in low to moderate income areas. We have found revenue-based financing to be a compelling alternative to venture capital and fixed payment loans as a forward-looking and structurally flexible investment to support business growth. We believe that Founders First's unique advisory and revenue-based investment platform enables underrepresented small businesses to overcome systematic bias and achieve their potential."
With the infusion of funding by CIM, Founders First will launch its first FastPath track cohort to focus specifically on those companies with $1 to $5 million revenue. The first FastPath track will launch January 13th – 16th at the University of San Diego in San Diego, California. To apply for cohorts, companies can visit: http://www.foundersfirstcapitalpartners.com/fastpath
ABOUT COMMUNITY INVESTMENT MANAGEMENT
Community Investment Management (CIM) is an institutional impact investment firm that provides strategic debt funding to demonstrate and scale responsible innovation in lending to underserved communities and advance financial inclusion, promote economic development and drive widespread adoption of such innovation by the financial mainstream. CIM combines experience, leadership, and values to align the long-term interests of investors and historically underserved communities. CIM combines experience, values and credit expertise to align the long-term interests of underserved borrowers with those of investors. More information is available at http://www.cim-llc.com.
ABOUT FOUNDERS FIRST CAPITAL PARTNERS
Founders First Capital Partners, LLC is building a comprehensive ecosystem through its proprietary platform to empower underrepresented founders to become leading premium wage job creators within their communities. We provide revenue-based funding and business acceleration support to service-based small businesses located outside of major capital markets such as Silicon Valley and New York City. We focus on supporting businesses led by women, ethnic minorities, and military veterans, inclusive teams and businesses located in low to moderate income areas. Our proprietary business accelerator programs, learning platform, and growth methodologies transition these underserved service-based businesses into $5M to $50M recurring revenue, tech-enabled companies while providing, high-yield investments for fund limited partners (LPs) that perform like bonds but generate returns on par with equity investments. Each year, Founders First Capital Partners works with hundreds of entrepreneurs— and offers 3 cohort programs through our through our Founders Business Growth Bootcamp and 12 cohorts through our FastPath Funding Growth Experience program. https://foundersfirstcapitalpartners.com/
Contact Information:
Press Contact
Michelle Stansbury
(619) 663-9704
pr@f1stcp.com
FastPath Program Contact
Mike Jacobson
(858) 286-6030
mjacobson@f1stcp.com