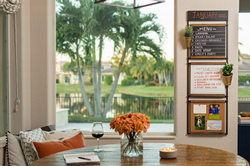 "We set out to provide a solution to the chaotic world of wall organizing systems and have created visual systems that are fun, stylish, customizable, and easy to install." - Mayra Kavan, Chief Brand Officer
SUNRISE, Fla. (PRWEB) January 07, 2020
1THRIVE is launching its 1THRIVE Organizational System that they call "Command Centers." The brand was conceived and developed by a passionate, diverse group of individuals who are planners, busy moms/dads, bullet journalers, goal getters and just plain regular folk who were looking for a solution to the chaotic world of wall organizing systems.
1THRIVE Command Centers are simple, beautiful organizational systems that anyone who is serious about controlling their chaotic life will love. They use a visual style to turn goals into accomplishments. 1THRIVE centers have a streamlined footprint and simple one-wall mount feature to save valuable space in your home. They come in two different sizes (wide/long) depending on your spatial preference with multiple preset configurations. These configurations have unique personalities and are named accordingly such as The Sarah, who relates to people who love simplicity, The Casey, who is like your BFF and has your scheduling "back," The Brooke, who is an organizational dynamo, and The Taylor, who is a real go-getter.
And the "kicker" is that each configuration is customizable depending on where you want to place the chalkboard, corkboard, file folder, hooks, buckets and accessories (i.e. tacks, magnets, markers, inspirational cards, and header magnets). 1THRIVE Centers are designed to help you achieve your goals - fitness, meal planning, financial, scheduling, motivational and more! Base pricing starts at $99 at 1THRIVE.com. For a limited time, 1THRIVE will be running a PRE-SALE promotion starting at $79.
Beyond 1THRIVE Center, 1THRIVE will be offering organizational tips and tricks via free downloads, blogs and a newsletter covering topics like meal planning, decluttering, budgetary planning, fitness and scheduling. They are also forming a new social Facebook community, the 1THRIVE Tribe, a space for people to share ideas and encourage each other to achieve their goals. Some features will be #SetupSundays and "1THRIVER of the month."
About 1THRIVE – A company that thrives on making organization fun and simple through its 1THRIVE Command Centers. 1THRIVE also fosters a social community where people can share ideas and command their life! For photos, videos and more: click here 1THRIVE EPK