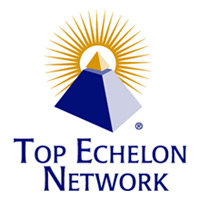 We believe 2014 will be a big year for the Network, and we're excited to start the year the right way.
Canton, Ohio (PRWEB) February 10, 2014
For the past 25 years, Top Echelon Network, an elite recruiter network of highly specialized search firms, has helped recruiters make split placements. One of the ways the Network has accomplished this is by ensuring that only split-minded, experienced recruiting firms become Preferred Members.
As a result, not every recruiting agency that applies for membership in Top Echelon Network becomes a Preferred Member. Early in its existence, the Network adopted a four-step screening process for admitting recruiting agencies. Those four steps include the following:
1. Application
2. Interview
3. Screening
4. Reference checking
After being accepted, each Preferred Member agency is expected to achieve a defined level of success within the Network (i.e., make split placements) in order to maintain its membership status.
NEW NETWORK MEMBERS IN JANUARY:
Top Echelon Network recently welcomed four recruiting agencies to the ranks of its Preferred Members during the month of January. By joining Top Echelon, the four agencies listed below are committed to making split placements:

Premier Health Careers, Inc. in Metairie, Louisiana
Betts Search Group, LLC in Des Moines, Iowa
Systems Technology International, Inc. in Novi, Michigan
The People Place in Florence, Kentucky
QUOTABLE:
Top Echelon Network Membership Development Coordinator Drea Codispoti, CERS is responsible for screening the recruiting agencies that apply for Preferred Member status. Codispoti took the four agencies above through all four steps of the screening process and granted them admission into the Network.
"As always, we're pleased to welcome these new agencies to Top Echelon," said Codispoti. "We believe 2014 will be a big year for the Network, and we're excited to start the year the right way. We're continuously looking for recruiters that are split-minded and want to build Trading Partner relationships with their colleagues. That's how they're able to make split placements and generate more revenue on their desk and within their firm."
ABOUT TOP ECHELON NETWORK:
Nearly 400 recruiting firms and agencies from all major industries are part of Top Echelon Network, founded in 1988 and based in Canton, Ohio. Network recruiters can search open job orders and qualified candidates, set up automated email alerts, and share information with each other for the purpose of making split placements. Learn more about how a split placement network operates.