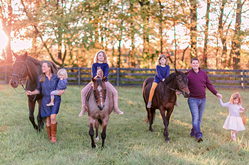 "IVF turned out to be the difference maker for us and having embryos to freeze was an incredible blessing. To anyone unsure of freezing their embryos, the FET cycle is significantly less invasive (and less costly) than the fresh cycle."
FAIRFAX, Va. (PRWEB) December 14, 2020
Shady Grove Fertility (SGF) patients Bekah and Chris Bartley are growing their family using in vitro fertilization (IVF) advancements that are making each IVF cycle work harder through subsequent frozen embryo transfers (FET), offering patients a lower cost, less complex, yet equally effective option for family building.
Following a fresh IVF cycle, patients have the option to freeze remaining embryos, using the most advanced technology, called vitrification. At SGF, about 40 percent of patients who undergo IVF have an additional embryo(s) that they choose to cryopreserve (freeze) to use for another attempt, should their first cycle be unsuccessful, or to continue to build their family at a later date. SGF is a national leader in optimizing pregnancy outcomes during fresh IVF and subsequent FET cycles.
The Bartley family from Northern Virginia, as with thousands of other SGF families, can attest to this, as they will soon welcome their fourth child who was conceived from embryos created during a fresh IVF cycle 10 years ago.
The Bartleys were living in Northern Virginia when they first started trying to have children more than a decade ago. After being unable to conceive on their own, the Bartleys sought care at SGF's Fair Oaks location with the late Stephen Greenhouse, M.D. However, after a few unsuccessful rounds of intrauterine insemination (IUI), they knew it was time to move on to IVF.
In the Fall 2011, the Bartleys had their first and only fresh IVF cycle. They became pregnant with their first daughter as a result of that treatment, but they also had five additional embryos that the Bartleys decided to freeze. "That decision turned out to be the best decision we ever made, giving us three of our four beautiful daughters, and now with a fourth SGF baby on the way," shares Bekah.
To the Bartley's shock, a week after their first born turned one, they found out they were pregnant on their own. Their "surprise daughter," as they affectionately refer to her, was born in April 2014. A little over a year later in August 2015, they returned for their first FET cycle, which resulted in a third daughter, born in May 2016.
Building a Family with SGF as an Out of State Patient
When their third daughter was 3 months old, the Bartley family moved to Texas, but kept their embryos with SGF to continue building their family.
"SGF worked with us seamlessly for our second FET cycle, even though we were remote," Bekah recalls. "My OB/GYN and local fertility practice in Dallas executed our physician's orders and we flew back to Virginia in November 2017 for the actual embryo transfer."
That FET resulted in a third SGF baby born July 2018, which meant that up to that point, the Bartley's single fresh IVF cycle had a 100 percent success rate in transfers (one fresh, and two frozen) and healthy pregnancies and deliveries.
"Her birth was especially bittersweet for us as we were in the hospital having her when we learned of Dr. Greenhouse's passing," Bekah expresses. "We are forever grateful to SGF and Dr. Greenhouse and the contribution he made to give us our beautiful family."
Fast forward 3 years later to Fall 2020 and the Bartleys returned to SGF and Dr. Paulette Browne of SGF's Fair Oaks location for another FET, which the family is proud to announce, has resulted in a successful pregnancy.
Frozen Embryo Transfer (FET) Cycles are Equally Effective as Fresh IVF Cycles
"For patients with a good prognosis who are 35 years of age or younger, we can offer an approximately 60 percent pregnancy rate per embryo transfer," says Dr. Browne. "In turn, this means that the success rates for FET cycles are very similar as IVF cycles using fresh embryos."
Recently, Bekah shared, "We decided that we'll be SGF patients until all our embryos have been transferred. 2021 will mark a decade we've been with SGF and every experience, doctor, nurse, and staffer we have worked with has been outstanding."
Additional benefits of FET:

The FET process is less intense, requires fewer office visits, and is more predictable than a fresh IVF cycle, which often times reduces stress.
The cycle requires less medication and no anesthesia because the egg retrieval has already taken place. Instead of stimulation medication, patients use estrogen and progesterone to thicken the lining of their uterus in preparation for the embryo transfer to allow implantation.
The success rates of an FET cycle are at least comparable to a fresh IVF cycle—and can often result in a higher success rate because of the opportunity to optimize the lining of the uterus before implantation.
A FET can allow time for genetic testing of the embryos prior to transfer, which lowers miscarriage rates and increases likelihood of pregnancy with a healthy baby.
"IVF turned out to be the difference maker for us and having embryos to freeze was an incredible blessing," Bekah expresses. "To anyone unsure of freezing their embryos, the FET cycle is significantly less invasive (and less costly) than the fresh cycle."
To learn more or schedule a virtual fertility consult, contact the SGF New Patient Center at 1-888-761-1967 or complete a brief online form.
About Shady Grove Fertility (SGF)
SGF is a leading fertility and IVF center of excellence with more than 85,000 babies born and 5,000+ 5-star patient reviews. With 37 locations throughout FL, GA, MD, NY, PA, VA, D.C., and Santiago, Chile, we offer patients virtual physician consults, deliver individualized care, accept most insurance plans, and make treatment affordable through innovative financial options, including 100% refund guarantees. More physicians refer their patients to SGF than any other center. Call 1-888-761-1967 or visit ShadyGroveFertility.com.