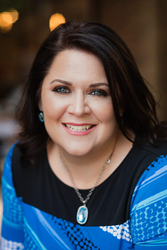 These finalists highlight Kolbe's positive impact around the world.
PHOENIX (PRWEB) September 19, 2018
Four high-achieving consultants have just been recognized for leadership in the use of strengths theory, also known as conation. For the first time, the four finalists for Kolbe Corp's Conative Excellence Professional Award come from three different countries — the USA, Canada, and Ireland — representing the growth of Kolbe around the world over the past 40 years. The winner will be announced at the Conation Nation Symposium in Scottsdale, Arizona Oct. 25–26.
"These Kolbe Theory users represent the top tier of consultants helping leaders and organizations better use their strengths," said Kolbe Corp CEO David Kolbe. "Our theme for Conation Nation Symposium is 'Impact' and these finalists are great examples of Kolbe's positive impact around the world."
The finalists, selected from all nominations, are Amy Riccardi, Andrew Lawless, Ross Slater and Wayne Smith.
Amy Riccardi (HCM2020 LLC)
Amy Riccardi is the Chief People Officer and Founder of HCM2020. After founding an eLearning strategy consulting firm in 2001, Amy took the Kolbe A™ Index in 2004 when she entered the Strategic Coach program. In 2009 she became a Kolbe Certified™ Consultant and in November 2018 became a Dynamynd Youth Advocate and has used the Kolbe Suite of tools ever since. Her firm focuses on a broad range of strategic consulting services including human capital, learning, workforce planning and executive advisory work.
Andrew Lawless (Rockant Inc.)
Andrew is Ireland's only Kolbe Certified Consultant. He coaches leaders through implementing critical decisions and strategic pivots. Andrew brings a unique blend of experience in behavioral sciences, publishing, digital marketing, and localization. His accomplishments include managing corporate turn-arounds to transforming the World Bank's global approach to localizing its analytical work.
Andrew presented his successes with transforming global teams to the Obama U.S. White House and testified before the U.S. Senate on the importance of professional development. He served as a trainer and consultant to the FBI's Behavioral Science Unit where he helped analyze the mindset of hostage takers. He is an adjunct professor at the University of Maryland.
Ross Slater and Wayne Smith (Reach Capabilities Inc.)
Reach Capabilities cultivates capabilities for growth through targeted, actionable, and sustainable 'edutainment with purpose'. Kolbe Wisdom™ has been a cornerstone of the business from the start. Principals, Ross Slater and Wayne Smith, are both Kolbe Certified Consultants and members of the Copper Circle. They are known for their contagious energy and strong interest in personal and professional development.
Seasoned facilitators, coaches, and speakers, who have presented worldwide - they guide executives, entrepreneurs, and their teams to greater success. They have presented at Conation Nation Symposium and other Kolbe Corp sessions. Although they come from different backgrounds (Ross worked with entrepreneurs and Wayne with large corporations), through their partnership, they have spread Kolbe Wisdom to over 200 diverse organizations involving over 10,000 people.
About Conation Nation Symposium
Conation Nation Symposium will take place October 25 and 26 at the DoubleTree Resort in Scottsdale, Ariz., and is the authoritative conference on conation — the part of the mind used in action and achievement. The event will feature a variety of presentations from leaders in coaching, human resources, and personal relationships; including Dan Sullivan, Kathy Kolbe, and keynote speaker Brian Burkhardt.
For more information about Conation Nation Symposium, visit: http://kolbe.com/cns.
About Kolbe Corp
Since 1977, Kolbe Corp's mission is to help people succeed by having the freedom to be themselves. More than one million people have completed Kolbe assessments to better understand their conative strengths – natural instincts that govern action and achievement. Thousands of organizations use Kolbe Corp's assessments and consulting services to be more productive and to build effective and engaged teams.
Kolbe Corp's flagship online assessment, the Kolbe A™ Index, is the most powerful personal strengths assessment available, with proven reliability and validity. The Kolbe A Index is available online at http://kolbe.com.