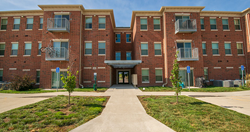 The Des Moines market continues to demonstrate very strong investment fundamentals despite a wave of new supply, with strong job and population growth that extends out to the suburbs.
LOUISVILLE, Colo. (PRWEB) December 12, 2019
Four Mile Capital ("FMC"), a privately-held real estate investment firm based in Louisville, CO, has acquired The Bricks Waukee East ("Bricks," the "Property"), a 216 unit multifamily community in Waukee, IA, a suburb of Des Moines, in an off-market transaction. Bricks, completed in 2017 and sitting on 9.2 acres, consists of one- and two-bedroom apartment units and has a competitive amenity package, including a pool and fitness center. BH Management ("BH"), based in Des Moines, IA, has been awarded the management contract, their second with FMC.
The transaction closed December 5, 2019, for $25,000,000, or $115,741 per unit and $155 per square foot. As part of their acquisition, new ownership placed a new non-recourse 65% LTV fixed-rate mortgage at 3.625% from Luana Savings Bank, based in Iowa.
Bricks is located in the rapidly growing suburb of Waukee, which is exceptionally located in relation to the largest employers, retail centers, and interstate highways in the affluent Dallas County and West Des Moines submarkets. The Property is 20 minutes from downtown Des Moines, 25 minutes to DSM International Airport, 10 minutes to the Jordan Creek Town Center mall, the premier retail destination in the metro, and 5 minutes from a newly approved 40 acre, $80M mixed-use entertainment district opening in 2021.
After purchasing the nearby Aspire Townhomes in West Des Moines in December 2018, FMC now owns about 450 units in the MSA and is looking to add more. "The Des Moines market continues to demonstrate very strong investment fundamentals despite a wave of new supply, with strong job and population growth that extends out to the suburbs," said Eric Mallon, one of FMC's founding principals. 11,000 new residents joined the metro annually through the 1Q2019, and its 1.7% growth rate puts Des Moines ahead of most other Midwest metros. "Waukee's population has exploded almost 300% since 2000 and was recently named the 9th fastest growing suburb in the country. It also has the 3rd ranked school district in Des Moines (and 10th in the state), all of which are key investment indicators for us," continued Mallon.
Given its new construction, there is very little deferred maintenance or expected capital investment at the Property, so FMC will instead focus on improving operations through the implementation of more sophisticated management and marketing strategies, utilizing their institutional-quality asset management platform to control operational expenses and make strategic decisions for the asset. "At this point in the cycle, we are thrilled to be able to purchase newer construction assets, at a basis below replacement cost, and with returns approaching those of traditional value add executions," said Andrew Jumbeck, VP of Acquisitions for Four Mile.
Four Mile Capital continues to pursue additional value-add investment opportunities in secondary and tertiary markets throughout the U.S, with a specific focus on Colorado, Virginia, the Carolinas, Iowa, and Wisconsin. They employ an opportunistic strategy in acquiring off-market properties that fall below the radar of its institutional peers, targeting investments with a total capitalization between $10MM and $100MM, and between $5MM and $35MM of equity.
Four Mile Capital was formed in 2016 by three veteran real estate principals: Chris Geer, Eric Mallon and Terry Simone. Collectively, they have been involved in the ownership, acquisition, asset management and property management of approximately 20,000 multifamily units representing over $1B in aggregate value and have proven their ability to identify and unlock asset value by instituting capital improvement programs and best management practices. Learn more about Four Mile Capital at fourmilecapital.com or on LinkedIn.