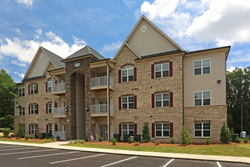 "Landon Creek is representative of the risk-adjusted deal that we are thrilled about purchasing at this point in the cycle."
LOUISVILLE, Colo. (PRWEB) March 03, 2020
Four Mile Capital ("FMC"), a privately-held real estate investment firm based in Louisville, CO, has acquired the Landon Creek Apartments ("Landon Creek", "the "Property"), a 72-unit multifamily community in Greensboro, NC, in an off-market transaction. Landon Creek, completed in 2019 and currently in lease-up, sits on 6.65 acres and consists of large one- and two-bedroom apartment units, averaging 905sf and 1,065sf, respectively. Wellington Advisors ("Wellington"), based in High Point, NC, has been awarded the management contract and will stabilize the Property over the next 30-60 days. At the time of closing, the Property was 79% leased.
The transaction closed on February 27, 2020, for $8,700,000, or $120,800 per unit and $123 per square foot. As part of their acquisition, new ownership placed a new 70% LTV, non-recourse, fixed-rate mortgage at 3.61% from Fannie Mae, originated through Berkadia's Denver capital markets team of Kevin Batt and Brian Huff.
Landon Creek is located in a medium-density area in Greensboro's northwest submarket, 15 minutes from downtown and UNC-Greensboro, and 10 minutes from Piedmont Triad International Airport. In addition to being centrally located for access to jobs and retail, its neighborhood schools are among the best in the city.
The acquisition, FMC's first in the state, aligns with FMC's initiative to expand south from its holdings in Virginia, where it currently owns over 600 units, in markets that demonstrate a balanced outlook for stability and growth. "Greensboro has all of the characteristics of a healthy market that we look for. It continues to absorb the recent waves of new construction supply, with strong job and population growth translating into steady rent growth and downward trending vacancies," said Eric Mallon, one of FMC's founding principals. Rents have appreciated well over the past two years, with 2019 year over year rent growth that puts Greensboro in the top 5 nationally, behind Phoenix, Las Vegas, and Atlanta.
The new construction apartments, with unit interiors finished with granite countertops and stainless appliances, were delivered with no deferred maintenance or expected capital needs. FMC's business plan instead focuses on improving operations through the implementation of more sophisticated management and marketing strategies, utilizing their institutional-quality asset management platform to control operational expenses, push other income opportunities, and make strategic decisions for the asset. "Landon Creek is representative of the risk-adjusted deal that we are thrilled about purchasing at this point in the cycle. It's new construction, so we create value out of the gate by buying below replacement cost, and yet also expect to generate strong returns that approach those of traditional value add executions," said Andrew Jumbeck, VP of Acquisitions for Four Mile.
Four Mile Capital continues to pursue additional value-add investment opportunities in secondary and tertiary markets throughout the U.S, with a specific focus on Colorado, Virginia, Kentucky, the Carolinas, Iowa, and Wisconsin. They employ an opportunistic strategy in acquiring off-market properties that fall below the radar of its institutional peers, targeting investments with a total capitalization between $10MM and $100MM, and between $5MM and $35MM of equity.
Four Mile Capital was formed in 2016 by three veteran real estate principals: Chris Geer, Eric Mallon and Terry Simone. Collectively, they have been involved in the ownership, acquisition, asset management and property management of approximately 20,000 multifamily units representing over $1B in aggregate value and have proven their ability to identify and unlock asset value by instituting capital improvement programs and best management practices. Learn more about Four Mile Capital at fourmilecapital.com or on LinkedIn.