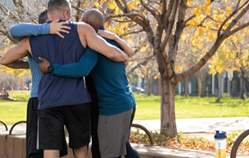 Our IsaBody Challenge Finalists keep setting inspiring examples for how our transformative products and amazing IsaBody community can help people reach key milestones in their wellbeing journeys. – Travis Ogden
GILBERT, Ariz. (PRWEB) August 13, 2020
Isagenix International, a global wellbeing company providing effective products and a supportive community, has announced four new Canada finalists in its annual total-body transformation program, the IsaBody Challenge®. The second Judging Period's finalists are Jonathan Franke of Red Deer, Alberta; June Plahuta of Dunsford, Ontario; Sabrina Rouleau of Lefaivre, Ontario; and Trevor Besse of Lake Country, British Columbia.
Finalists will receive CA$3,000 each as well as tickets and paid expenses for themselves and a guest to Canada Celebration 2021. Each finalist will be introduced at the event, where the IsaBody® Grand Prize Winner will be announced. The IsaBody Challenge and Canada Celebration are hosted by Isagenix.
The second round of four finalists was selected out of thousands of participants across Canada who completed the IsaBody Challenge during the most recent Judging Period. A total of 12 finalists will compete for a chance to win the grand prize of CA$10,000.
"Our IsaBody Challenge Finalists keep setting inspiring examples for how our transformative products and amazing IsaBody community can help people reach key milestones in their wellbeing journeys," said Isagenix Chief Executive Officer Travis Ogden. "We congratulate our latest finalists on all they've achieved and look forward to seeing many more IsaBody® participants benefit from this terrific program."
Meet the Finalists
Jonathan Franke, Alberta
Age: 40
Total Challenges completed: 3
Total weight loss over completed Challenges: 27 pounds*
Jonathan's initial goal was to lose some weight and see if it would help him feel better. After completing three IsaBody Challenges, he loves the way he feels. Jonathan lost 40 pounds during his first Challenge and then improved his fitness by using the AMPED™ line of products. Along the way, he discovered there is so much more to Isagenix than weight loss. He's also appreciated the supportive IsaBody community, where program participants help each other reach their goals. With his confidence and health restored, Jonathan is excited to continue his journey with another Challenge, this time with his wife.
June Plahuta, Ontario
Age: 59
Total Challenges completed: 7
Total weight loss over completed Challenges: 19 pounds*
The IsaBody Challenge has enhanced June's wellbeing by helping her reduce body fat while gaining lean muscle, strength, mobility, and flexibility. She has supported this transformation by consuming Isagenix products as her core nutrition along with clean, organic food and participating in CrossFit. At the age of 59, June not only feels healthier and fitter than ever before but also confident and peaceful. She says she feels like she's aging backward, and she's ready to inspire and encourage others as a holistic healthy aging coach. The IsaBody Challenge is keeping her accountable, and she plans on being healthy and happy for many years to come.
Sabrina Rouleau, Ontario
Age: 25
Total Challenges completed: 3
Total weight loss over completed Challenges: 10 pounds*
Sabrina's transformation includes not only treating her body better than she used to by consuming proper, healthy nutrition but also focusing on how she feels mentally. Thanks to the IsaBody Challenge, she no longer feels guilty about putting herself first, because she knows she can't pour from an empty cup. She has created balance in every aspect of her life so she can not only take care of herself but also have fun and go outside her comfort zone to try new things. Sabrina is ready and excited for the next steps in her wellbeing journey.
Trevor Besse, British Columbia
Age: 48
Total Challenges completed: 1
Total weight loss over completed Challenges: 15 pounds*
Before the IsaBody Challenge, Trevor focused on work and family life, which left little time for dedicated self-wellness. The Challenge inspired him to create and focus on fitness goals. Those goals included getting into relatively the same shape he'd been in at his wedding 10 years ago and then retaking wedding photos on the beach where he'd said his vows. Trevor says the best part of the Challenge was including his family in his fitness journey. They exercised together five to six days per week. He is truly grateful to Isagenix for providing a program and products that helped him reach his goals.
To read more about the finalists and see their before and progress photos, visit the Isagenix Newsroom. To learn more about Isagenix, visit the Newsroom, like the company on Facebook, and follow it on Twitter and Instagram.
*Weight loss, muscle gain, lifestyle, and other results depicted here reflect exceptional individual experiences of Isagenix customers and should not be construed as typical or average. Results vary with individual effort, body composition, eating patterns, time, exercise, and other factors, such as genetic and physiological makeup. A two-phase 2016 study published by researchers at Skidmore College showed an average weight loss of 24 pounds after 12 weeks. The study evaluated the use of Isagenix products in men and women for weight loss followed by weight maintenance. During the weight maintenance phase, the subjects who continued the calorie-controlled program using Isagenix products better maintained their weight loss in comparison to those who transitioned to a traditional diet after 52 weeks.
About the IsaBody Challenge
The IsaBody Challenge is a 16-week contest that rewards participants for their total-body and life transformations. Participants are judged on their before and progress photos as well as their personal essays describing their journeys. The contest looks for the most inspirational and motivational stories about how participants have made healthy body and life transformations. The IsaBody Challenge is open to all Isagenix customers and members over the age of 18 in markets where the company operates. For more information, visit the IsaBody Challenge.
About Isagenix International
Established in 2002, Isagenix International believes that everyone deserves to experience a healthy, joyful, and abundant life. The global wellbeing company artfully crafts more than 175 effective products and offers a supportive community for its more than 425,000 customers worldwide. Isagenix shares its products through a network of independent distributors in 26 markets: the United States, Canada, Puerto Rico, Hong Kong, Australia, New Zealand, Taiwan, Mexico, the United Kingdom, Ireland, the Netherlands, Belgium, Spain, South Korea, Austria, Denmark, Finland, France, Germany, Italy, Japan, Norway, Poland, Portugal, Sweden, and Switzerland. The private family-owned company has its world headquarters in Gilbert, Arizona. For more information, visit Isagenix.com.