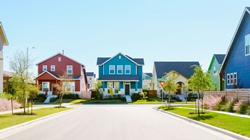 AUSTIN, Texas (PRWEB) January 15, 2020
The Goodnight Ranch rang in the end of 2019 with further neighborhood expansion as it opened three new housing options, officially opened its community amenity center, and celebrated a well-produced and well-attended 3rd Annual Festival of Good. The 700-acre community will encompass more than 3,500 residential units and has nearly sold out of its first two sections of single-family homes.
During 2019, Goodnight Ranch embarked on its third phase of rental and homeownership developments by offering four new developmental housing options. Those include:

Nightingale at Goodnight – Designed with the intention of being a supportive community for active living seniors, the Nightingale at Goodnight is a mixed-income development offering 174 units varying in size from 730-1,225 square feet, and units are housed in a three-story, elevator-served building. The community is also surrounded by single-story cottages, with all units having access to a private fitness center, community room, auditorium and a library with stunning park views on three sides of the project.
Urbana at Goodnight Ranch — The Urbana at Goodnight Ranch offers single-family homes available for those who need more room or who would like a more traditional living space. Each home created in Urbana is called a YardHome™, where 151 rental units are available in this style with an open floor plan with options for 1-3 bedrooms in 1-2 story houses. Homes in Urbana at Goodnight are also pet friendly with each home having its own privacy fenced backyard. Residents have access to an enclosed pet park, pet washing and gated community pool.
Goodnight Commons —Designed by LDG Development, Goodnight Commons is an affordable, multi-family community offering 304 rental units with options ranging from 745-1,720 square feet in size and 1-to 4-bedrooms floor plans. Amenities include a swimming pool, a yoga and MyFit studio, a business center, library and a theater.
Nexus at Goodnight — Designed for the millennial market, the Nexus at Goodnight offers apartment living options with contemporary kitchens and smart home compatibility. There are 294 rental units in nine separate buildings, with sizing varying from 765-1,270 square feet and 1-to 2-bedroom floor plans. Amenities will include a 7,000-plus-square-foot clubhouse, fitness center, sports bar, a pool and hot tub, sand volleyball pits and an outside cooking area. Unit construction is being carried out by Greystar Development & Construction, and construction on units is coming soon.
MI Homes + Empire Homes — Constructed by MI Homes and Empire Homes, these single-family homes in Goodnight Ranch showcase more than 15 different home styles all situated on 35-and 45-foot lots, with home size varying from 1,500-2,800 square feet.
AVI Homes —Offering an economical option with an urban feel, the AVI Homes in Goodnight Ranch are modern townhomes and duplexes available in 12 different styles varying in size from 1,325-1,810 square feet.
November was an exciting month for Goodnight Ranch as it officially opened its first-class community Amenity Center. Centrally located within the neighborhood, the Amenity Center houses a family-friendly pool, splash pad, playscape, hammock park, fire pit, BBQ grill, a fully equipped playground, and plenty of gathering spaces for residents to host family and friends.
Also, in 2019 was the 3rd Annual Festival of Good that took place in late August. This family-friendly fest welcomed more than 450 attendees into the community for a block party style fest commemorating the "good" things in Austin. The event featured 33 local vendors offering activities such as a petting zoo, bounce house, dog adoptions, a craft table and three fitness classes for festgoers to take free of charge. Attendees also enjoyed Kona Ice, Chameleon Cold Brew, Richard's Rainwater and food trucks, all the while manifesting the noteworthy "live, work, play at home" aspect of the Goodnight community.
"It's great to see the Goodnight Ranch community evolve into a neighborhood with its own distinct personality and housing options. We certainly are thankful that we had another year of great success in offering diverse housing options to Austinites and prospective Austinites," said Myra Goepp, Vice President of Benchmark Land Development.
Current and prospective residents will find new improvements to the Onion Creek Metro Park District's greenspace, a planned 64 acres that weave throughout the Goodnight Ranch community. The District culminates in the "backyard" of Goodnight Ranch, otherwise known as Onion Creek Metropolitan Park. The newly developed 50 acres of native wild space, open fields, trail enhancements and parking spots located just across Nuckols Crossing Road will grow to encompass roughly 550 acres of native and interactive space.
While continuously working to provide nature accessibility, Goodnight Ranch has in place a Community Enhancement Covenant. This Covenant ensures a Community Enhancement Fee is collected to be placed into the Community Investment Fund upon the sale of any property in Goodnight Ranch. The Community Enhancement Fee is directly used to offer opportunities for Goodnight Ranch's residents to increase their education through community-building activities, services and programs.
Undergoing construction at Goodnight Ranch is Blazier Intermediate School which is set to be completed in late summer 2020. Once finished, the school will stand with Blazier Elementary, a Texas Education Agency (TEA) five-star school situated on a high school-size campus, and both will form a conclusive "educational village" within Goodnight Ranch. There are additional plans in the works for a future high school, and these educational expansions will make Goodnight Ranch a community in Austin where young residents from kindergarten through 12th grade can walk to school.
For more information about the Goodnight Ranch community please visit http://www.liveatgoodnight.com. To see pictures from The Festival of Good please visit http://thefestivalofgood.com/.
###
About Goodnight Ranch: Goodnight Ranch is a mixed-use neighborhood transforming a former dairy farm in southeast Austin into a vibrant, walkable, tree-lined urban hub. The 700-acre site will be fully realized over the next 10 to 15 years and is expected to include more than 3,500 homes, in addition to a mixed-use town center, three AISD schools, 226,000 square feet of retail space, more than 120 acres of open space, and landscaped streets designed to integrate a safe network of bike paths, trails and sidewalks. The first phase of the project, located on the northern side, is adjacent to Slaughter Lane and includes a mixture of yard homes and condominiums, a community park, Blazier Elementary School and a future middle school. A high school site is planned in the upcoming developmental phases. For more information, visit http://www.liveatgoodnight.com.