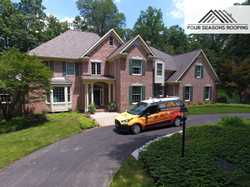 We are here to assist Maryland home and business owners during the COVID-19 pandemic.
OWINGS MILLS, Md. (PRWEB) April 06, 2020
Four Seasons Roofing, a roofing contractor based in Maryland, is announcing that until further notice they will remain open and continue to take on new projects during the Coronavirus pandemic. They are receiving calls from home and property owners who are in need of assistance and want to know if they will remain open during this pandemic.
"We understand that this Coronavirus pandemic is serious; and we weren't sure how it was going to impact our business. We started receiving phone calls from people who wanted to know if we were open and still providing estimates. We have found that many homeowners are stuck at home and want to use this time to make repairs and perform home improvements they've been putting off. Business owners who have needed to get their roofs repaired or replaced and want to do it now while their buildings are shut down. To ensure everyone's safety, we are following all regulations and precautions issued by our local and federal government." Four Seasons Roofing Representative
In order to better assist new customers, the contractor has announced that they will be offering new roof financing and will continue to perform other services like repair and replacement work, siding, gutters, and window installation. More information about these services can be found on the company website with updates of availability based on the changing impact of this pandemic.
"If you are not sure how to cover the cost of a new roof, don't worry. We have financing options with low payments that are available to help you out immediately. The weather is warming up and right now is actually the best time to get started on upgrading your home or business. Unfortunately, COVID-19 has made things a bit stressful for people, but if you have the time and means to get the work done, it's best to act now. We are offering free consultations for anyone who wants to know what we can do to help them improve their home or commercial property." 4-Seasons Roofer Representative
About The Company
Four Seasons Roofing utilizes over 20 years of experience and elite customer service to provide high-quality work for commercial and residential projects. Fully licensed, insured and bonded, the business is happy to provide contractors and property owners with a free consultation and quote.